Where have I been? On a very long Amtrak ride from San Jose to Santa Barbara, to take part in the first-time-ever Color and Couture knitting workshop! Long train rides, like long flights, are premium knitting opportunities, and our group took full advantage of the time. Our train was incredibly comfortable – far more so than the economy section of any plane I've ever been on. The seats were enormous, leg room was generous, and there were wide pull-out footrests to ensure total traveling comfort. The train had an observation car with floor to ceiling windows and swivel chairs, the better to appreciate the landscape shifts outside: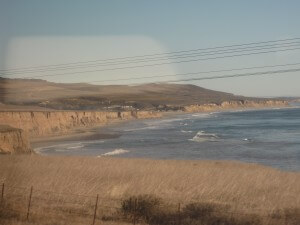 We passed through the Central Valley: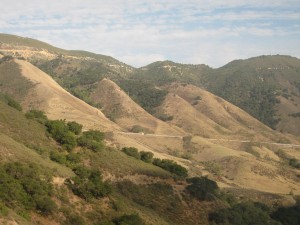 Lots of farms, some with cattle grazing on the hillsides, some with vineyards marching as far as the eye could see, and some with fields planted with strawberries and other colorful crops. What a way to see the California countryside! And about an hour outside of Santa Barbara we reached the coastal tracks, where it got a bit nerve-wracking as we traversed bridges that appeared to be cantilevered over the ocean cliffs.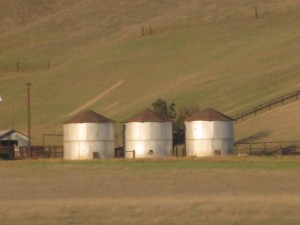 My good friend Sandy accompanied me for the weekend, so it was a girlfriends' road trip as much as a knitting retreat. Sandy moved away from the Bay area about four years ago, and our town has never been the same. She works at Jimmy Beans Wool in Reno, so she has the inside track on all the new yarns and pattern books coming out each season.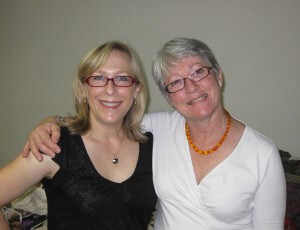 Here are two of our instructors (and the coordinators) for the retreat, Susan Schlesinger (L) of  Bonita Knitting Store near San Diego and Erin McGee (R) of Bobbin's Nest Studio in Santa Clara. They did an incredible job with their workshops on Color Theory and Updating Your Knitting Repertoire. In addition, the take-aways from this retreat were outstanding! I came home with several free skeins of luscious yarn (and that's not even including the ones I purchased at the "boutique" set up in our conference room), at least a dozen free patterns and a couple of new books, as well as a fabulous assortment of knitting notions, needles, and more. It was a challenge to zip up my suitcase, to be honest, even after I opened up the expandable section!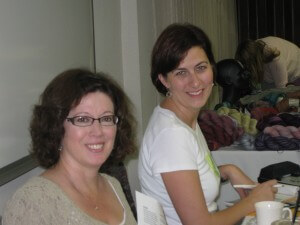 If you've never had an opportunity to take a pattern fitting workshop with Joan McGowan-Michael of White Lies Designs, I encourage you to seek her out. Her seminar on achieving the perfect "couture" fit for any hand-knitted garment was masterful. Joan has a comprehensive design background, and is the author of Knitting Lingerie Style, one of the books I refer to often in my knitting library.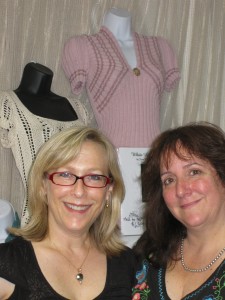 Here is Joan's trunk show featuring just a handful of her original designs… every single one of them is gorgeous; beautifully finished and outrageously feminine.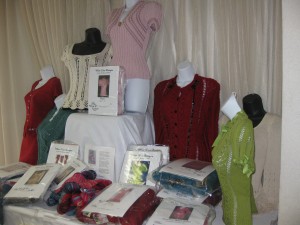 Not everybody made it into this group photo – there were about 30 of us altogether. Lots of different knitting skill levels, but everyone benefited. A great group of women from both northern and southern California, brought together for one glorious weekend.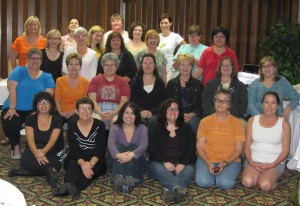 For me, the high point of the weekend was that I finished re-knitting and re-assembling my striped Noro V-neck sweater. It's hard to tell from this photo, but it really does fit me much better. My mods were to add 2 x 2 ribbing to the hem, and long ribbed sleeves (wrist to mid-forearm), as well as a 2 x 2 ribbed neck band. These small touches gave the garment just a bit more of a finished look.