This year's fig harvest has been outstanding. I think this year's harvest is the largest we've ever had, and the tree has been productive for a longer period than in earlier years. This, even though our single dwarf fig tree shows no signs of dramatic growth that might account for its prolific output. The tree is still pumping them out, and I've been fortunate to beat the local squirrel population to most of them. These small triumphs over our ever-growing furry rodent population are as satisfying as they are silly.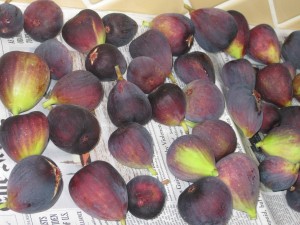 Having made two different batches of fig jam (one with vanilla bean, one with pears), and the requisite variety of fig tarts, figs with cheese, and even a surprisingly easy dinner of chicken stuffed with chopped figs and goat cheese (from Marie Simmons' highly recommended and absolutely lovely book Fig Heaven), my imagination is flagging. Deborah Madison to the rescue! Her book Local Flavors: Cooking and Eating from Farmers Markets gets top marks for using farmers market produce in new and delicious ways. A couple of her fig recipes captured my fancy: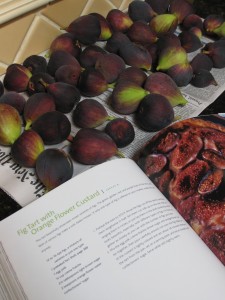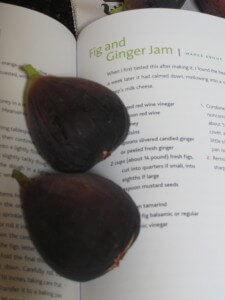 And then, with flights of fig fancy filling my fervid imagination (not to mention, apparently, a profound fascination with the letter "F"), I found my figgiest hand-dyed yarns for a fig-inspired still life. This period of not being able to knit (during my recovery from hand surgery a month ago) must be getting to me.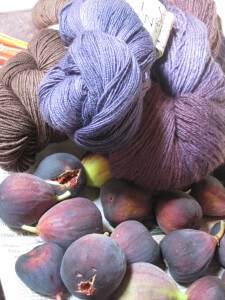 Any excuse to play with yarn, right?  The brown on top of the pile is Blue Moon Fiber Arts Socks That Rock Heavyweight in Meet Brown, Joe. On the left, the indigo lace weight is Nature's Palette Silk/Wool in Lupine, and the heavier variegated on the bottom right of the photo is from Fleece Artist, Blue Face Leicester DK in a riot of gorgeous violets the exact name of which I can't remember. If yarn was edible, I'd have these for dessert with a dollop of creme fraiche.