For comfort, drape, and quintessential summer style, the Still Waters Tee is easy on the eyes and easy to love. Worked in crisp linen that softens with washing and wear, its strategically placed mesh lace side panels and sleeves give new relevance to the concept of air conditioned clothing.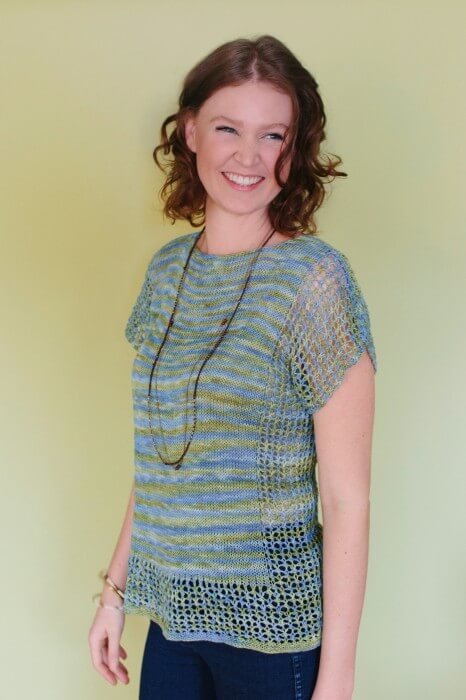 Knit in the round up to the armholes and then divided for the sleeves, front, and back, Still Waters offers easy construction and visually simple but highly effective texture. Two short seams at the top of the shoulders means that only minimal finishing is required before the tee is ready to wear. And with summer calling, what could be better than that?
I can't say enough good things about Claudia Hand Painted Yarns "Drama" – 100% Linen yarn. Gorgeous colors (I used Blue Fields for this project), lovely drape tempered by linen's natural dry texture, and unparalleled stitch definition. As the linen softens with wear, I love this tee even more, and find myself reaching for it often to pair with everything from jeans to a linen skirt. I suspect you will, too!