No trip to New York would be complete without a visit to School Products, one of my favorite yarn shops, located on Broadway around 29th St. And so with an hour to spare one afternoon, I made my way there. In addition to a range of Karabella yarns, they stock gorgeous cashmere and other luxury mill ends from Europe. Berta Karapetyan, the owner, was there that afternoon – she is the author of Runway Knits, and is a gifted hand-knitter and designer. I never leave School Products empty-handed, as you can see.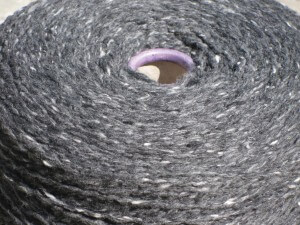 This rustic-looking, Italian-milled charcoal tweed wool demanded to go home with me, and with roughly 2,000 yards on the cone it will probably end up as a new sweater for DH, who supports my yarn and knitting addiction so graciously. The surprising thing about this yarn is that considering its slightly rough and nubby appearance, it is deliciously soft.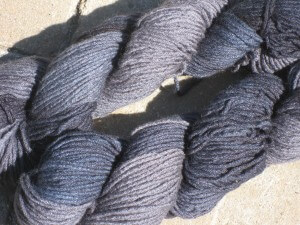 Two skeins of this plied 80% cashmere/20% silk blend hand-dye amounts to about 300 yards. It also feels wonderful to the touch with a slightly dry hand from the silk content, and the steely blue-gray color with sparks of light (again from the silk) is truly a winner.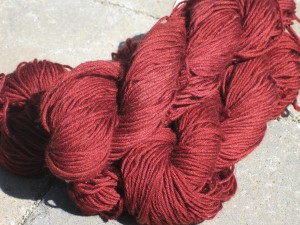 A final indulgence – and I really do mean indulgence – is this 100% cashmere. Hand-dyed in the U.S., it is the richest possible shade of garnet (quite a bit deeper than my photos would suggest) and is divinely lofty and soft. I took home three skeins, enough for a hat and mitts, or possibly a hat and cowl. Bliss, pure bliss. I think we need to see this one close up, don't you? (Wipe that drool off your chin, please…)