The shrug is one of knitting's most versatile projects. Yet there are many who assume it's necessary to be thin, or young, or flat-chested to wear one. I might even have thought that myself, once upon a time.
Now that I've been taking advantage of every possible opportunity to wear my Sail Away shrug, though, I'm newly converted to its charms. Sail Away takes its name from the wavelike all-over lace design I chose for the project – it was perfect. There are only two short seams to create the sleeves. And, you have the option either to leave the sleeves wide, kimono-style, or to knit Garter stitch cuffs for a bit more structure, as shown here.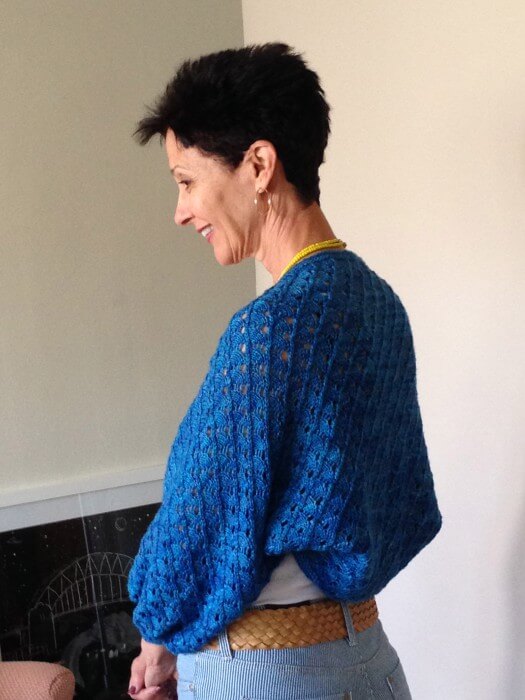 When would you want to wear a shrug? you ask. Maybe the better question is when wouldn't you want to wear a shrug?
Movie theater feels like a walk-in freezer? Unfold it from your purse and wrap up in it.
Office ventilation system making you shiver? Pull it out of your desk drawer and put it on.
An unexpected chill in the air on your early morning power walk? Thank goodness you had the presence of mind to bring it along!
As one of the few wool-blend projects in Knits That Breathe, the Sail Away shrug is an anomaly. But Sportmate yarn from Lorna's Laces was too good to pass up. That Superwash merino wool is blended with Outlast™, a high-tech fiber used in the aerospace industry to regulate body temperature. That means if you're feeling a chill, the Outlast helps retain body heat. And if you're running hot, it helps cool you down.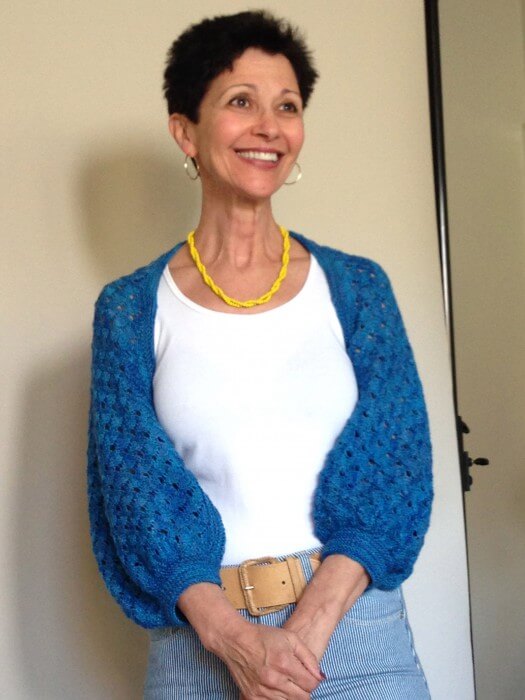 As Lorna's Laces puts it: