I designed Haven with multiple purposes in mind. There's nothing like a "versatility challenge" to get me thinking, swatching, sketching, and swatching some more. One of the great things about living in Chicago is that in the summertime, several lakefront beaches are a mere 15-minute walk from my apartment. With a book and a cold drink in hand and my toes in the cool lake, I can't think of a better way to laze away a weekend afternoon than on a sandy beach.
But it would feel a bit odd to me to stroll around downtown among the business professionals and the tourists without some kind of cover over my bathing suit. And if I can also wear that cover as a casual top, or an oversized, comfortable layer over a camisole, so much the better.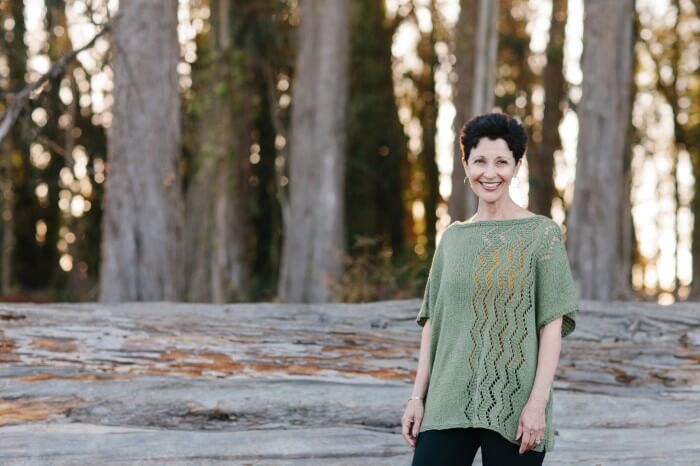 Haven began with a fetching zig-zag lace pattern in one of my Japanese stitch dictionaries. I was so taken with it that I swatched it ages ago, well before beginning the designs for Knits That Breathe. Ever since then, it has been pinned to my inspiration board where I could look at it every day until the right project came along.
Once I had sketched out a plan for Haven with an asymmetrical lace motif, sloping shoulders, and breezily open sides, the lace swatch started shouting (metaphorically, of course) "Pick me! Pick me!" It would have been cruel to refuse. Not to mention, it's perfect.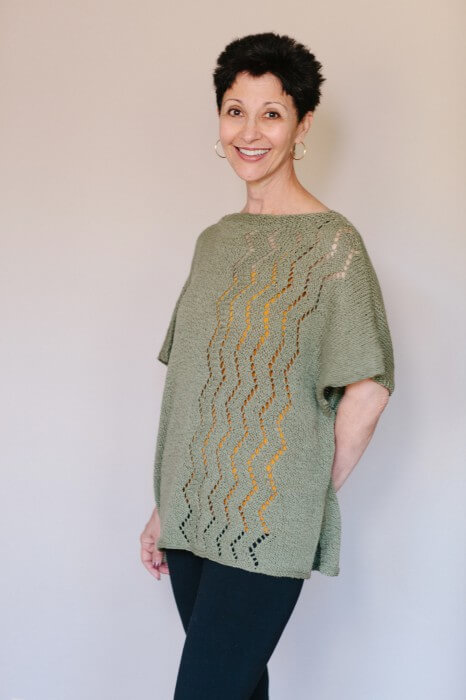 Berroco's Linsey yarn, a 64% cotton and 36% linen blend that is soft to the touch yet offers wonderful stitch definition is also, as Berroco describes it, "colored in the sun-weathered shades of summertime." That subtly tweedy color variegation    is part of its appeal.
An additional feature is how marvelously cool it feels against the skin. Cotton and linen are two stalwarts in terms of moisture wicking and absorbency. The linen content gives Linsey's knitted fabric a judicious hint of the crispness we associate with that fiber, making it truly perfect for a hot day.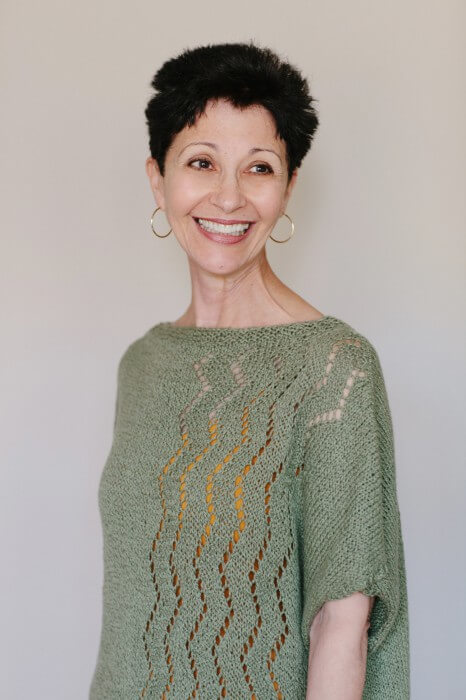 See you at the beach!