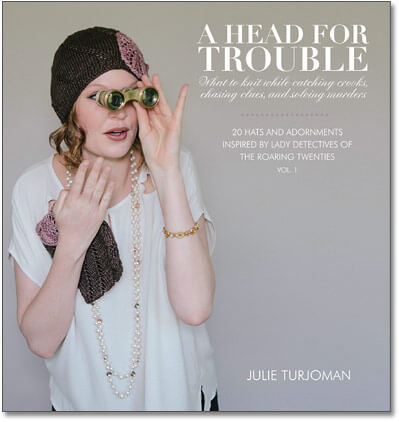 A HEAD FOR TROUBLE
What To Knit While Catching Crooks, Chasing Clues, and Solving Murders
20 Hats and Adornments Inspired by Lady Detectives of the Roaring Twenties, Vol. 1
Do you adore the fabulous fashions in Downton Abbey and The Great Gatsby? Here's what you've been waiting for: Roaring Twenties style for today's knitter.
Are you a fan of historic mystery novels with strong female characters? Each design is inspired by a 1920s-30s 'lady detective' in a popular mystery series.
                            *                    *                    *                     *                    *
A HEAD FOR TROUBLE delivers a captivating collection of 20 Jazz Age accessories to the modern knitter – just in time for fall/winter projects and holiday gift knitting. Ten hats, each with a companion project (for scarves, fingerless mitts, and more), blend vintage glamor with wonderfully wearable contemporary style. The patterns focus on subtle textures, exquisite lace, dynamic color work, and elegant edgings, finished with embellishments such as flowers and leaves, buttons and brooches.
Bonus features include an illustrated guide to 'Hat Anatomy,' helpful tips to ensure success with the projects, clear directions for the embellishments, and links to the mystery novels that inspired the projects.
Here's what the critics are saying:
"…one word does all the necessary telling: DELIGHTFUL!…I found myself smiling at many of the pages, utterly charmed by the attention to detail within….These hats and headwraps are all about their details: beaded leaf appliqués, bold buttons or pins, ruched or tucked brims, the occasional crochet picot edging. But paying attention to those details pays off in spades with finished pieces that allow the modern wearer a dash of bygone panache….The best part about this collection? The last bit of its subtitle reads "Vol. 1". 
Lynne Sosnowski for Knitty.com, Winter, 2014
Inspired by the past, but fun to make and wear today. Wonderful for those small amounts of yarn – and perfect gift items, too. Charming!
Deborah Newton – designer and author of Finishing School: A Master Class For Knitters
These marvelous hats and their matching accessories are just the thing to keep you looking stylish as you start your next crime-fighting adventure.
Hunter Hammersen – designer and author of the Knitters Curiosity Cabinet series
See below for photographs of the designs from this book…