Although the full size tomatoes are not impressive in the garden this year, the cherry tomatoes are going like gang-busters. Both the Sun Gold and the Chocolate Cherries (so named for their dark burgundy-brown color, not for any resemblance to chocolate in the flavor department, unfortunately) have been prolific, and look as if they'll keep pumping out the fruit for another month or so.
A person can eat only so many tomatoes. I've had more than my share, to be sure. They go in the dinner salad every night, and accompany my tuna or hard-boiled egg, or whatever I'm eating for lunch that day. But my basket overfloweth. Over the weekend, it was necessary to take drastic measures – again. These: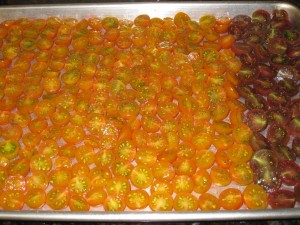 after oven-drying for two full hours at 250 degrees (thanks, Anne, for the recipe!), ended up in a freezer baggie so I can scoop out as many as needed to add to soups and other recipes. Halving all those tiny tomatoes without too much discomfort to my hand was a major kitchen triumph.