Anyone visiting New York City this fall will undoubtedly be urged to fit in a visit to the High Line, the elevated park (and former rail line) that runs from Gansevoort St. up to 20th . It will eventually continue up to 34th St. as funding and time allow, to be completed in 2011 if all goes according to plan. I'm here to tell you those urgings should be heeded, even if all you have is an hour to spare.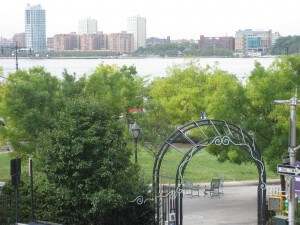 With a free morning during my visit a couple of weeks ago, I headed straight over to the West side without having any idea what to expect. I climbed the stairs at the 20th St. access point and when I reached the High Line my first thought was, "This is it? This is what all the fuss is about?" Because there is a walkway with plantings on either side, and railings over which one can see varying street views. The old rail lines have been left in place, where they now form ground-hugging industrial sculpture that snakes around the plantings in wonderful patterns.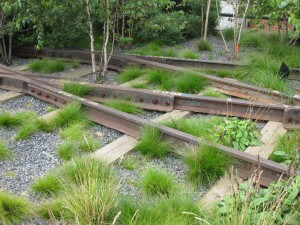 As I began my stroll south along the wide path, I began to focus on those plantings that had at first seemed so pedestrian; no different, really, than the weeds one would find in any abandoned lot anywhere in the city. Gradually, though, I began to appreciate the incredible variety of the plant life all around me… yet all of it seemed to be native to the area – or at least it could be if cared for and allowed to thrive. And then I became aware of a delicious fragrance that reminded me of my herb garden at home… only better. Birds, bees, and butterflies were flitting around among the flowers and grasses.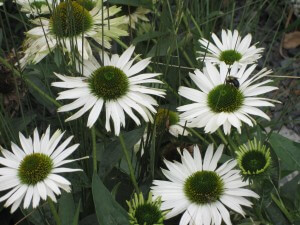 Not only was the plant life captivating, but the architectural details were equally noteworthy. Especially remarkable were the colored glass panels that represented all the colors of the river…. done by an artist who had blown up photographs of different sections of the river and isolated a single pixel of each, until he was able to assemble a collage of colors, and light, and mood – and then transpose them all to glass panes.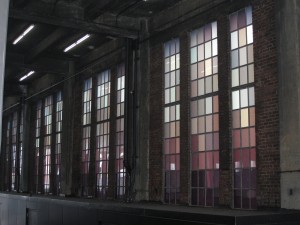 There were uniformed, hatted employees working throughout the park, weeding, watering, and fertilizing the plants. When I inquired about the fragrance, I was told that it was the "drop seed grass," which smells similar to the herb cilantro. Ahhh, yes. Every once in a while, I'd pull over to the railing to see what I could see. And the views were wonderfully diverse: road, overpass.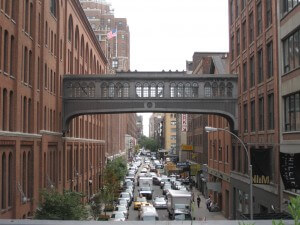 Water, boats. Parks, skyscrapers. People, people everywhere. It was the the life of the city from a quietly fantastic, more-serene-than-usual perspective, and I could easily have spent all day taking it all in.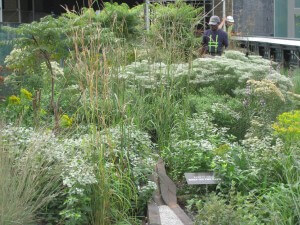 And I was not alone in that. Although when I first arrived I felt almost as if I had the place to myself, by the end of my visit there were many other people enjoying it with me, strolling along the path, sitting on the benches that had been placed thoughtfully about the park, leaning up against the railings to admire a particular view, taking photos. Lots of tourists speaking French, German, and other languages, but just as many New Yorkers taking a breather from the energy of the city. I can't wait to return at a different time of year to see how the High Line's atmosphere and views change with the seasons.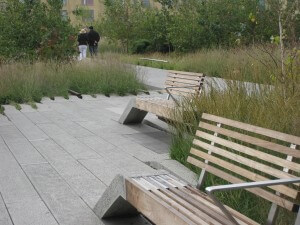 Every curve in the walkway seemed designed to provide a different angle, to offer a new perspective on the park, and all of its geometry was softened by the thriving, fragrant plants. In its own subtle, quiet way, it was quite thrilling.