Worked in two pieces – front and back – Breezy is one of those summer projects that works up quickly but looks like you slaved over it. Its A-line shaping means that it epitomizes comfort, but those deep lace borders mean it looks smashing over a skirt as well as with jeans.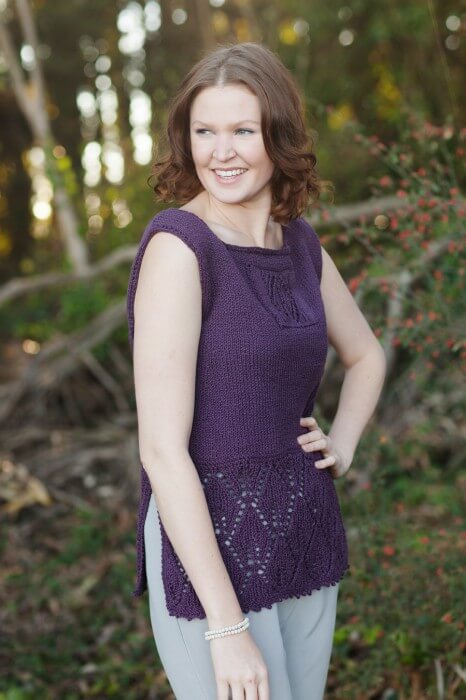 Picot cast-on and the extravagant lace pattern are the special details that take a bit of time and thought, but give you the satisfaction of knowing you've earned those rows of easy Stockinette for the upper body. A centered chest pocket features the same lace motif as the deep borders, and adds interest to the swathe of Stockinette from the waist up.
On cooler days, pop this tunic over a lightweight tee shirt and you'll be happily comfortable. On hot days, I'm happy to confirm that the absorbent organic cotton and sleeveless design combine forces to keep you cool.
And because the top is not at all sheer you needn't worry about modesty. In fact, you won't need to wear even a camisole underneath when a glance at the thermometer tells you it's tropical outside.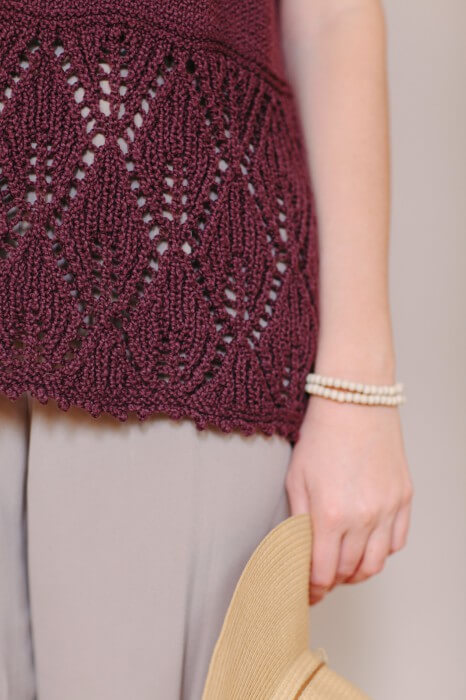 And maybe it's just me, but one of the things I love about those deep lace panels is that I can reach my jeans pockets easily by sliding a hand in from the side.
Classic Elite Yarns Verde Collection is the company's range of environmentally conscious fibers, which are all about natural comfort. Seedling is the smiling poster child for organic cotton; robust yet surprisingly lightweight, machine washable, and available in a lovely color palette. For our purposes, it's important to note that it's also highly absorbent, blissfully soft, wonderfully textured, and well-priced.