Long overdue for a new post here at Julie Turjoman Design. Chalk it up to house guests and the need to finish up edits and proofing of my next book.
Let's talk about the Splash Cardigan from Knits That Breathe, shown below fastened asymmetrically with a shawl pin.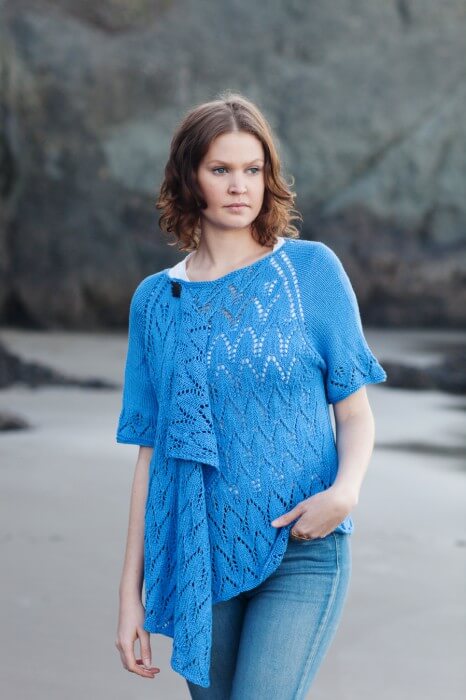 Here are the characteristics I invariably look for in a cardigan, and was happy to incorporate into Splash:
Lace or openwork design for air flow
Short or elbow-length sleeves (so I don't have to keep pushing up longer ones, which drives me crazy)
Breathable fabric that allows me to wear the cardi all day (cotton and bamboo blend here)
Drape-y, body-skimming design because that swishy style makes me feel instantly cooler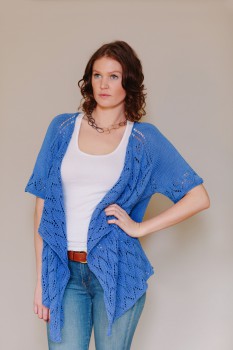 Designing Splash as a top-down cardigan was another deliberate choice, leaving only short underarm seams to complete before blocking. If you're going to make a hip-length cardigan, after all, do you really want to have to sew lots of long seams when the knitting is done?
I didn't think so!
Let's take a look at a few more details: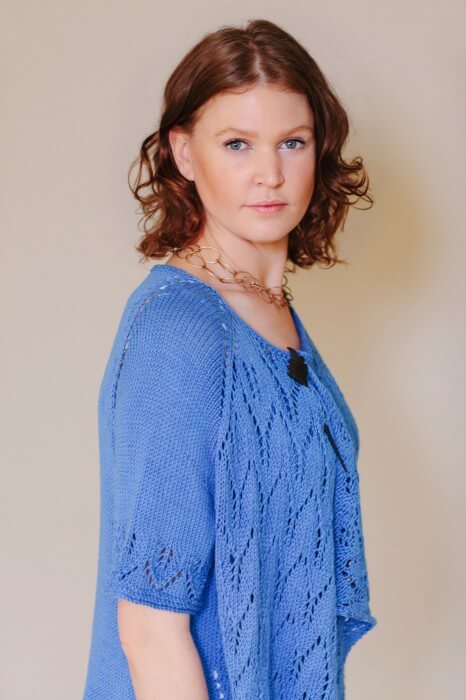 The lace design repeats in a simple border toward the end of the sleeves. Lest you get tired of all that lace on the fronts, I kept the back side plain Stockinette.
The top-down shoulders also include simple yarn overs, adding to its cool feel and appearance.
I included faux side seams, made by carrying a slipped stitch up into the next row before knitting it to give the appearance of seams. It's the kind of design element I like to use – another detail that makes the finished garment just a little more special.
And the yarn… oh, yes – the yarn. Can I tell you how much I enjoyed working with Valley Yarns' Southwick? The 52% pima cotton and 48% bamboo fiber blend is absorbent and drapes beautifully. Minimal blocking was required. Despite the fact that it's a swanky Italian import, this yarn is well-priced (and on sale right now at WEBS for only $5.39/ball) and available in a veritable rainbow of 26 colors. Although it was a little splitty on the needles, I found that a minor inconvenience once I saw how beautifully it knits up.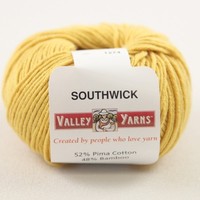 As far as Splash is concerned, the overlapping lace fronts mean that you can wear it either open or fastened with a shawl pin as demonstrated above. I like the added versatility… this allows for changing up the look of the cardigan just enough to keep it interesting.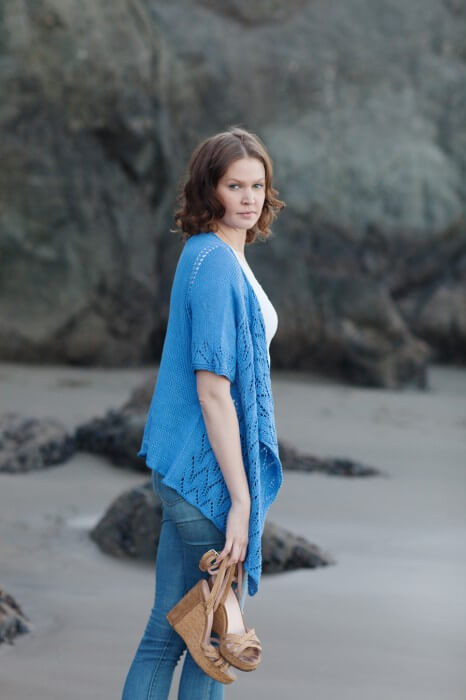 I wish I was on that San Francisco beach right now, toes in the sand, bracing tang of salt in the air. But if I can't be there, Splash at least allows me to pretend!