The Perfect Knitted Accessory
Sometimes the smallest bit of fibery goodness will make you smile. And Kat Coyle's  (www.katcoyle.com/blog) knitted bits of highly creative goodness for Brave New Knits made me smile from my first glimpse of the sketch she sent to illustrate her idea.
Add This To Your Holiday Gift-Giving List
Who doesn't love nearly-instant gratification? We knitters definitely love those clever stash-busting projects that can be completed in a single afternoon. And it's even better when those little stash-busters turn out to be gift-worthy items that we can feel proud to bestow on a loved one.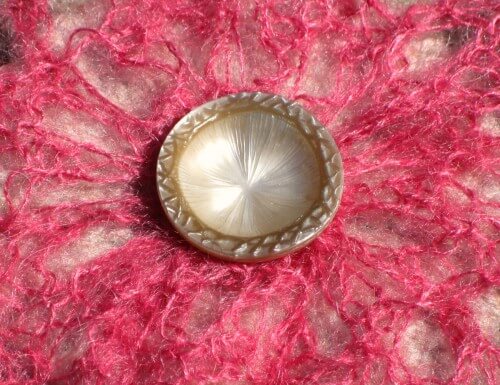 Deploy A Special Button
And those of us with a secret stash of vintage and other special buttons (OK, maybe not so secret), especially love stash-busting projects that also incorporate one or more of those fabulous buttons as the perfect finishing detail. Kat must have read my mind, because when I first opened the gold boxes into which she had placed these two lovely accessories, I was absolutely smitten.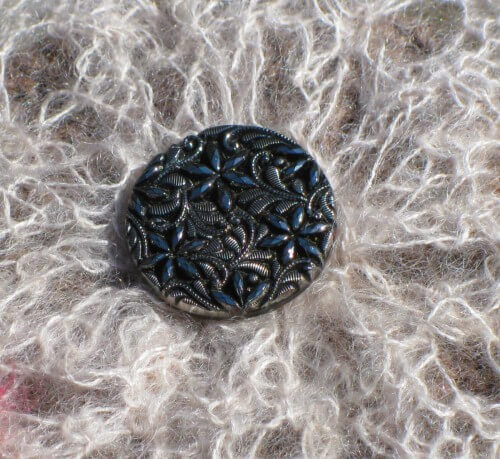 And I think you will be, too.
Although she feels as if she hasn't worked as much this year, Kat has had a couple of brilliant successes in two popular knitting publications. Following up her fabulous Courting Sophia shawl pattern in the Spring, 2010 issue of Twist Collective, another of Kat's designs appeared in Veronique Avery's St. Denis Magazine Issue #2 – the Bright Stripes lace scarf pattern.
In addition, she made an art piece – something she's been wanting to do more of, and was part of a group show of textile artists this past spring. For that show, her work was a combination of embroidery, crochet and knitting. And, this summer, she was in another group show – this time, a lace piece using her version of Irish crochet.
She continues to teach children's classes at Wisdom Arts Laboratory, where the summer's projects included having the kids make mobiles… and of course, she introduced several to the joys of knitting and sewing.
This fall, we'll see more knit designs, and if we're lucky Kat will produce some of her first self-published patterns.