Ask Anne Hanson of
Knitspot 
how her life has been over the last year, and she will tell you, "Things are pretty much the same, but MORE." 
2010 has seen her travel schedule get a jump-start; she is in ever-increasing demand as a teacher of lace knitting, sock knitting, and more. In fact, she recently returned from Knit Nation in London, and found that one of the best things about her expanded travel schedule is that, "… it's been a lot of fun to get out there and meet so many readers and customers, as well as those who are new to me. i love teaching and talking about knitting, after all!"
The main downside to all this globe-trotting is that it takes a toll on how much Anne is able to get done at home. As a source of inspiration, however, it can't be surpassed; she uses her travels to keep things fresh.
Secure in her place among that elite group of knitting bloggers who writes posts several times a week (nearly every other day most of the time!), Anne keeps a unifying focus on knitting and the design process, "… with a bit of gardening, cooking, and general life thrown in. And of course, travel! Everyone loves to see photos from the places I visit."
She reads all of her readers' comments (although she can't respond as often as she used to), and still loves blogging and the interaction it affords her. It stimulates her both intellectually and artistically because, " … having a forum to explore questions with is wonderful…"
An active participant on Ravelry.com since its inception, Anne's
Knitspot fan group
there is flourishing – closing in on 3,000 members, in fact! It's  a great resource for Knitspot pattern users and a fun place to come visit (everyone is welcome!).
At the end of August, Anne's lovely lace project for
Brave New Knits
will make its debut. A sneak peek is below! And that gorgeous yarn is 
Opulence
, a luxurious 50/50 blend of silk and merino wool from
The Woolen Rabbit
.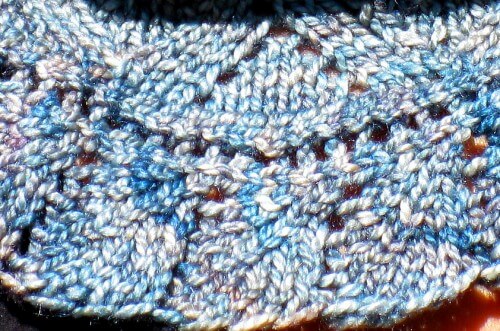 Anne's husband, David, is the talented photographer behind the beautiful images that show Anne's creations on her blog and patterns. As he has increased his involvement with the Knitspot business, he has created a presence for them on Facebook and Twitter, and started making little films that he posts on their youTube channel. According to Anne, "… he brings a delightfully fresh viewpoint to what we can offer….  He also travels with me once in a while and is a big hit with festival-goers and event participants."
Never content to rest on her laurels, Anne continually looks for fresh ways to reach her audience and present knit design in a new light.