Designer Spotlight #1
Meeting Kathy Veeza, better known in the knitting blogosphere as Grumperina, was an incredible thrill.
And with that introduction, this post kicks off my Designer Spotlight series, airing twice a week (or thereabouts) until I have shined the light on each designer who kindly agreed to participate in the making of Brave New Knits. With the book's release just a few weeks away – and I get shivers down my spine just writing that! – I thought it was high time to check in with each designer beyond our regular communications, and find out what each one has been up to since we originally did his or her interview for the book.
For someone as brilliant and talented as she is, Kathy is also down-to-earth and sweetly modest about her gigantic talents. And she's an absolute perfectionist, too. Perfectionism is a quality that can be hard to take in people who are already more gifted than seems quite fair, but in Kathy it just comes across as design integrity. In her day job as a research scientist she'd never settle for less than perfection, so it makes sense that her knitwear designs manifest the same scrupulous attention to detail.
Ch-ch-ch-changes
Since we met over a year ago, Kathy's knitting has taken a dynamic turn. I like to think that the beautiful saturated color of her BNK project yarn had something to do with this when she says, "… my knitting has shifted from texture and lace to color!  I find that nowadays, more than before, I'm likely to use bright and cheerful yarns, and see what I can make with them." This tiny peek at Kathy's project for Brave New Knits demonstrates both her way with lace AND her newfound love of bright colors: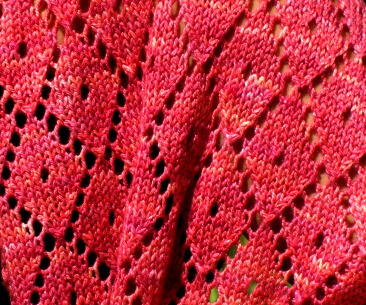 The single skein of Fingering Silky Merino (50% silk, 50% merino wool) yarn required for her project was generously donated by Sundara Yarn.
With the creation of several adorable baby garments during the past year, Kathy now finds that "… it's hard to keep away from saturated greens, purples, and blues when knitting for little ones."
An Embarrassment of Fiber Riches 
Another factor accountable for the shift in her focus is "… the ever-growing yarn industry in which companies large and small continually entice us with their new wares." I think we can all agree on that! When I consider the yarns that were available 20-odd years ago when I first learned to knit, compared to what is now available in yarn shops and on the internet, the quantum leap forward is astounding.
Blog Loyalty
Kathy still considers her blog her "main method of staying in touch" with the knitting community. " As long as I have something on the needles, I don't find it too difficult to write a blog post once a week, which is a good pace for me." With a demanding 9-to-5 job that competes for her time and attention, Kathy is nonetheless a prolific designer who even manages to find time to test-knit the occasional project for other designers.
The last year has also seen her experiment with other hand crafts; crochet and quilting projects have both shown up on her blog, with characteristically accomplished results. But knitting was her first craft love – her BNK interview explains how that came about – and clearly holds pride of place in her heart.