No Dust Grows on a Rolling Skein
Catching up with Ann Weaver (and her blog,
Weaverknits
) more than a year post-BNK-interview, it came as no surprise to learn that she is still doing at least ten things
seemingly
all at once. How she keeps all those balls (of yarn) in the air simultaneously is a mystery to me, except for her occasional hint that she gets about four hours of sleep a night. Yet somehow, she does it all, and she does it all WELL.
Although she loved her year-long stint as a commercial baker, she gave it up (but not, she maintains, because of the overnight and early morning shifts) when the bakery folded.
Landing soon afterwards at a publishing and editing company, she quickly became the "staff jack-of-all trades," contracted indefinitely to work her way through everything from "…editing and proofreading educational book and web content one day, performing quality assurance checks on websites the next day, cold-solving math tests for coursebooks the next." 
See what I mean? She does do it all.
For Brave New Knits, Ann created a fabulously colorful project that gives a tongue-in-cheek nod back to the punk rock scene. Its close fit,  slip stitch pinstripes and prominent buttons combine to lend this design an insouciant flair.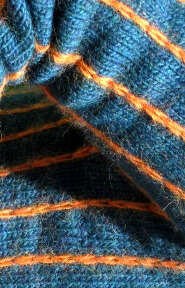 In the interim since we last spoke, Ann has produced designs for Interweave Knits, Knitscene, several published and upcoming books, and is currently working on additional projects for yarn companies, books,  AND her "… very own first self-published collection of 10 utilitarian patterns, tentatively titled Craft Work Knit, which will be available in digital and hard-copy format by the beginning of October 2010."
As much as she has enjoyed working in different formats and with different companies and publications, she wanted to "… make something that was ALL ME, with everything made from yarns I chose independently, photographed the way I wanted, laid out the way I wanted, in my favorite colors, modeled by my friends and family.  No compromises."
Coupled with her other activities, Ann's independent pattern collection has been an enormous undertaking, particularly because it contains four fully-sized sweater designs, two of which are offered in two distinct variations each.
She clearly thrives on this kind of intensity. With characteristic enthusiasm, she says, "The content is all coming together and I love it.  I don't care if it sells more than 20 copies… it is going to be AWESOMETOWN."
I'm thrilled to announce that Ann will be joining me at
Windsor Button
in Boston on Saturday, September 11th from 12 noon to 3 pm for a
Brave New Knits
signing and trunk show (where you can see her fabulous project in person!).