Lest you suspect that all this book promotion stuff has kept me from my own knitting, let me reassure you that is not the case.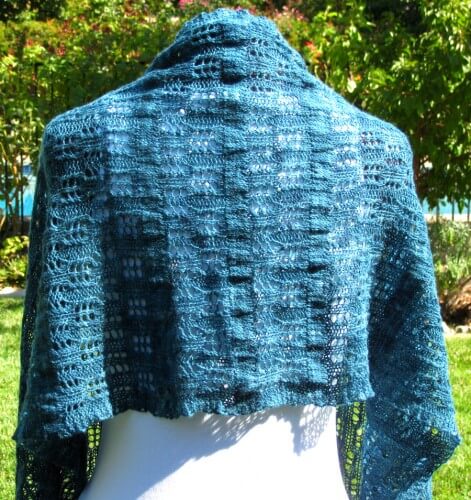 Please allow me to introduce the Sonja Stole, named for record-breaking Norwegian Olympic figure skater Sonja Henie. After her incredible first career as a skater in the 1920s and 1930s, she spent several more years as one of Hollywood's highest paid actresses. Talk about reinvention!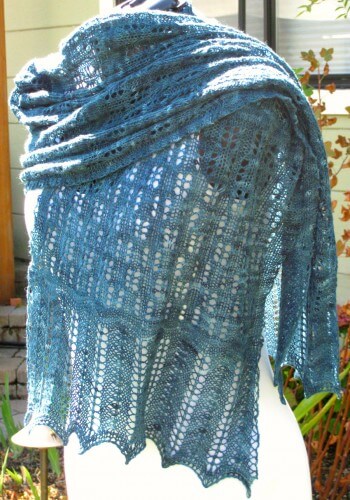 The stole's easily memorized lace stitch pattern throughout the body is interspersed with narrow sections of ruching (and these are spaced progressively closer together for added warmth where it wraps around the neck). Each end is finished with a lovely lace border.
Version #1 shown above (17″ wide x 68″ long, blocked) is a rich semisolid teal, made up with lightening speed by Glenna from less than two 400 yd. skeins of Fearless Fibers Laceweight 100% Merino Wool (you can also purchase Deb's beautiful yarns in larger skeins, which is perfect for this project).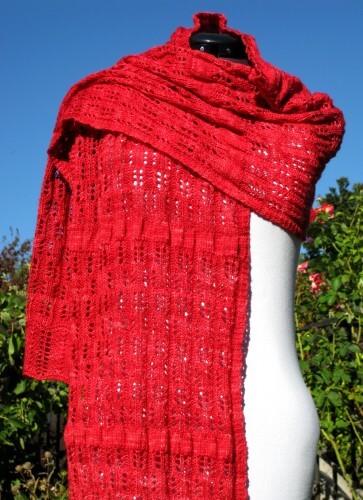 Version #2 is significantly longer (17″ wide x 84″ long), the better to wrap luxuriously around your shoulders on a cold night when moonlight skating is on the agenda. Worked up in just under three skeins of Madeline Tosh Sock (approximately 1,050 yards), it is sumptuously soft and warm.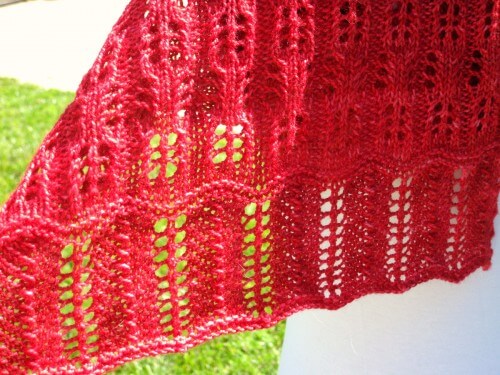 Both versions of the stole are knit on US Size 6/ 4.0 mm needles, which means that the laceweight merino (Version #1) knits up with open stitches that are light as air, and the fingering weight wool (Version #2) has more substance.
The pattern will be added within the next week or so to both my Ravelry store and to the Pattern page on this site. It will also include directions for a bonus scarf version of Sonja, just because.