Just in time for the release of the third installment of the Twilight movie series (wow, is that ever a franchise!), here is my contribution to the ever-growing library of Twilight-inspired knitting projects. Please say hello to "Love Bites," a pair of projects that includes a cozy side-buttoned neckwarmer and a pair of practical yet pretty fingerless mitts. The cynical among my readers should feel free to emphasize the "Bites", while Twilight fans will no doubt prefer to come down on the "Love." Both groups will undoubtedly pick up on the pun – we have X-O-X-O cables winding around the length of the neckwarmer and running up the back of each mitt, and both projects are embellished with a deliberately fang-like lace edging.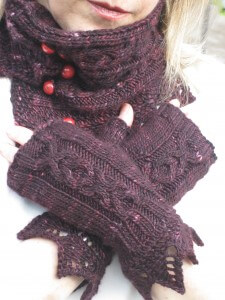 Each project requires less than one skein of Sundara's lovely Silky Merino; I used roughly one and a half skeins to complete both. If your own personal Twilight fan wears mitts but not neckwarmers, or the other way around, it's easy enough to make just one of the projects. Some may consider the set a bit too matchy-matchy; others will love the idea of creating a set that – despite the odds – simply belongs together, just like Bella and Edward.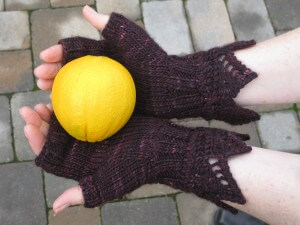 The combination of X-O-X-O central cables and an easy sawtooth (ok, yes, 'fangs') edging makes this a wonderful pair of projects for the knitter who really wants to master cable and lace skills by tackling an intermediate project. I-cord button loops (and if my choice of little round, red, 'drop-of-blood' buttons doesn't work for you, feel free to choose alternative ones you really love) secure the buttons that run vertically up the edge of the neckwarmer.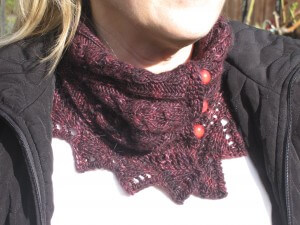 Readers of my blog already know that I have a real thing for Sundara's glorious yarns. The semi-solid colors in this silk and merino blend were the real inspiration for the projects. Her wonderfully subtle palette of dusky reds, purples, and pinks spoke to me of mystery, romance, and forbidden love; this was definitely a project where the yarn itself told me what it wanted to be!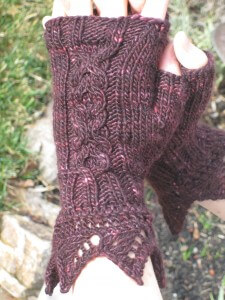 I will release the patterns for the two projects next week. Each pattern will be available separately, either through my blog or from Ravelry, for $4.00. If you prefer to buy the set, there will be a separate link to purchase both together for $7.00. The 1st, 13th, and 25th readers to purchase patterns for either the neckwarmer or the mitts, or for the two combined, will win a skein of fabulous yarn by the indie dyer of my choosing. I'll PM the winners so you can send me your mailing information.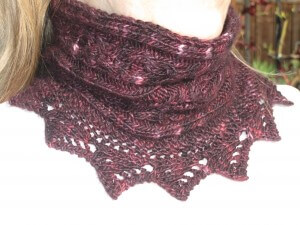 During the summer months, when I just can't bear the thought of a pile of heavy knitting making my lap sweat, I love little projects like Love Bites. And even though it's hard to think about what I want to knit for my holiday gift-giving when both the temperature and the humidity are hovering around 100, the fact remains that I still want to be knitting no matter how hot it gets. And this is just the sort of project I am happy to work on… hope you'll agree!