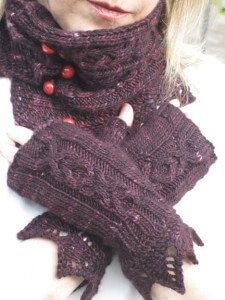 Love Bites Neckwarmer and Fingerless Gloves
If you've been on my Ravelry Designer page within the last 48 hours, you may have noticed that these patterns are up for sale. As promised, you can purchase them as a set for $7.00, or individually for $4.00 apiece.
In addition, way past my bedtime two nights ago I uploaded them to my Pattern Store on this site. The link routes you to PayPal to complete the purchase. I hope you'll enjoy these projects – because even if you are not a fan of the Twilight books/movies, or the True Blood TV series, this is a project to love for its own sake.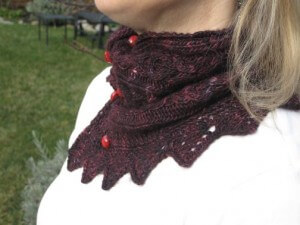 Do Vampires Have A Sense of Humor?
And did you notice those brilliant red "drop of blood" buttons to fasten the neckwarmer? Resistance was futile, but they were selected with tongue firmly in cheek. Equally true for the toothsome (OK, a fang is a fang is a fang) "Shark's Tooth" lace border that edges both the neckwarmer and the fingerless gloves.
This craze for all things vampire-ish seems to me to demand a sense of humor! That's also the inspiration behind my cable choice for both projects; the X-O-X-O represents that strange attraction that humans seem to feel for vampires, and vice versa (at least according to the movies and TV shows that feature them).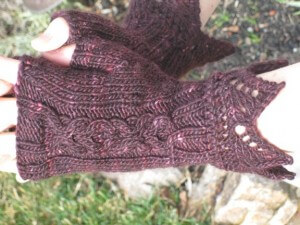 Do Vampires Knit?
If you are an intermediate skilled knitter, or even an adventurous beginner, the Love Bites ensemble is designed to be only moderately challenging but provides a relatively quick reward for taking your knitting skills to the next level.
And just a reminder; the 1st, 13th, and 25th purchasers of one or both of these patterns will receive a skein (of my choosing) of indie dyed yarn. I'll PM you so I can get your mailing details! Actually, Christina C. was the very first knitter to bite (hehehe!) when she purchased the neckwarmer two days ago, so she will receive a skein of luscious merino wool from Fearless Fibers.