Making progress on the Gyroscopic Cardigan, having finished the sleeves and back last week, shaping and all… am absolutely loving the way two repeats of the charted motif create a third one up the center.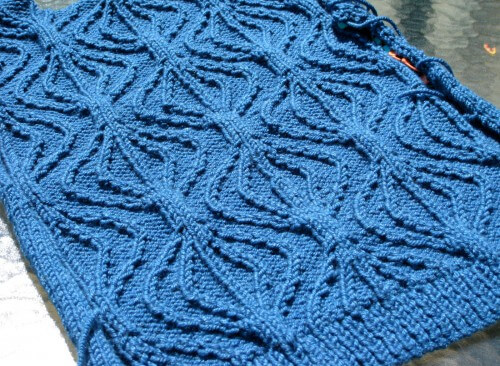 Here's another view. The twisted stitches and minimal cable crossings create wonderful texture up the back, undulating from ribbed hem to neckline. The larger sizes will include widely-spaced ribbed borders that frame the central cable motif, adding interest to those side stitches that allow room for the waist and bust shaping.
One of the many things I love about this cable motif is how easily it is memorized. Once you get into the rhythm of the curves, it just flows off the needles.
While my pattern for the cardigan (being test-knit as I write) will include line-by-line directions for the cable motif, written out in meticulous detail for knitters who prefer that format, I am a chart fanatic myself, and find charts so much easier to work from.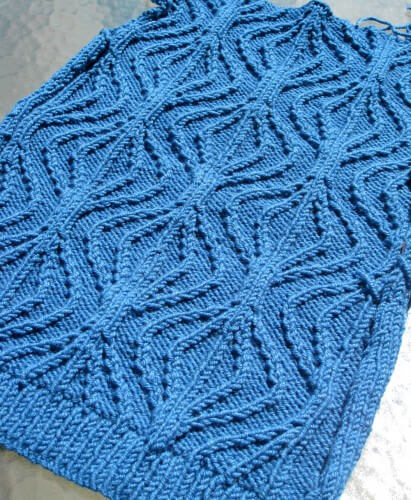 Decided to keep the sleeves simple, referring to the widely-spaced ribbed outer swirls of the cable motif as a way to add interest but not let the sleeve design get too busy. Although you won't hear me say this very often, sometimes the simplest solution is the most elegant.
And set-in sleeves are definitely the way to go with this cardi. The heavy worsted weight yarn creates a fabric that demands the structure of seaming.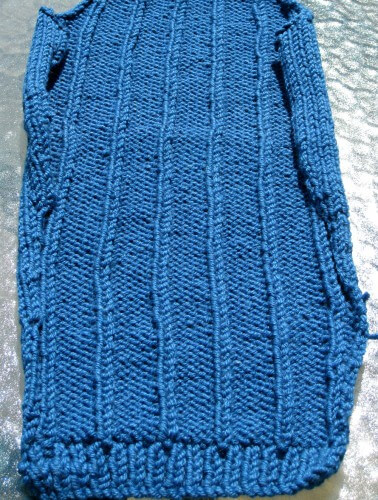 Taking advantage of last week's warmish weather, I was able to knit outside on the terrace quite often and keep up with the evolution of the garden.
Not that I accomplished any weeding (the Gyroscopic Cardi demands my complete attention, of course…) but I could still delude tell myself that I was making mental notes of the work that needs to be done outside, just as soon as there is a break in the knitting. Not that there are many of those.
The bouquet below features four different kinds of roses, as well as calla lilies and their leaves.