With so much secret knitting kept necessarily under wraps, it has been quite some time since I last had the opportunity to design a new sweater for yours truly. In fact, it has been a long time since I could blog about anything more exciting than baby caps, of which I have been enamored lately both for their stash-busting properties and for their "instant gratification" factor.
But finally I've found a little window, and have thrown myself into the design of this new cardigan. Cardis are my favorite garment, cables are among my favorite stitch textures, and a full bag of this extraordinarily beautiful blue bulky weight yarn (Queensland Collection Uruguay Chunky, a sublimely soft and decadently dense blend of merino wool, alpaca, and silk) has been burning a hole in my stash.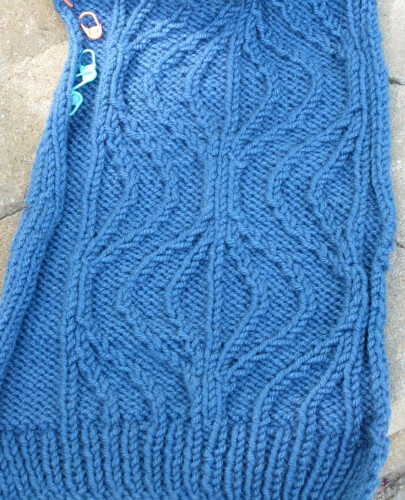 After much tinkering and swatching, I've decided upon this combination cable and twist pattern that creates a lovely gyroscopic swirl, hence the name I've chosen for the project.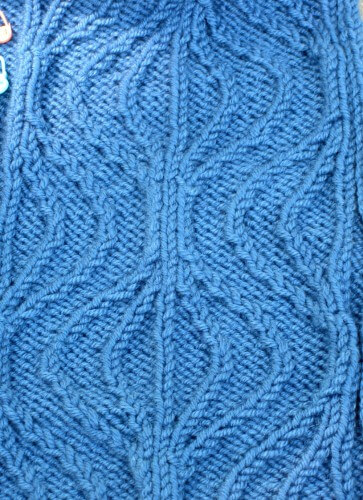 It's exciting to see the pattern grow, and so far I am thrilled with the way the shaping of the cardigan is evolving. On US Size 10 needles, it's moving along quite nicely, too; a couple of days of intensive effort as time permits and the front pieces are nearly complete.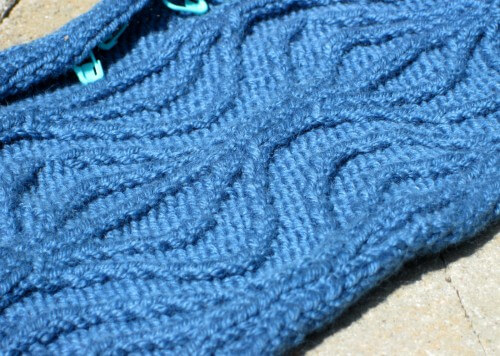 Follow along with me; I'll post updates on the progress as long as it takes.
I quickly realized that the 10 skeins I already had of this yarn were not going to be quite enough to complete the cardi I envision unless I made it with cap sleeves. I've ordered a few extra skeins and assuming the dyelots are not a perfect match, will have to alternate skeins as I work the back and sleeves.