The last two weeks of October took me to some amazing yarn shops and introduced me to some amazing knitters. One was based on the ground floor of a beautiful Victorian house, complete with charming cottage garden. Mona Rummel, long-time owner of this shop, Eugene, Oregon's wonderful Soft Horizons Fibre (which does not, by choice, have an internet presence, hence the Yelp link for information about the shop), decided she had to make Shannon Okey's Silke Jacket for herself: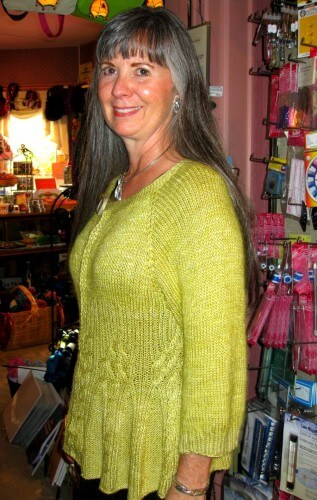 Customer Sara, who pre-ordered her copy of Brave New Knits, was enamored with Melissa Wehrle's Origami Shrug:
Another customer, whose name I didn't get (sorry!), fell in love with Ann Weaver's Johnny Rotten Jacket:
Kate, a Soft Horizons Fibre employee (and such a willing model that she tried on most of the book's projects!), was particularly fond of Teresa Gregorio's Milk Maiden Pullover:
And staffer Sydney was very excited to try on Ysolda Teague's Orchid Thief Shawlette before casting on for one of her own:
At Portland, Oregon's Knit Purl, the walls of color were a total feast for the eyes, though I didn't manage to catch those stealthy staffers trying on the garments from Brave New Knits.