Tacoma, Washington is home to Yorkshire Yarns, where I had the pleasure of spending an evening recently to do a signing and trunk show for Brave New Knits. I love the wire mannequin on the far left of the photo below; so Victorian looking, and so perfect for modeling the Silke Jacket.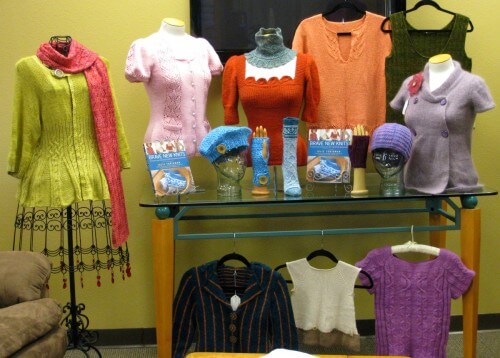 Sonya Acord is Yorkshire Yarn's owner; she organized a very fun evening for the book signing event complete with snacks and refreshments.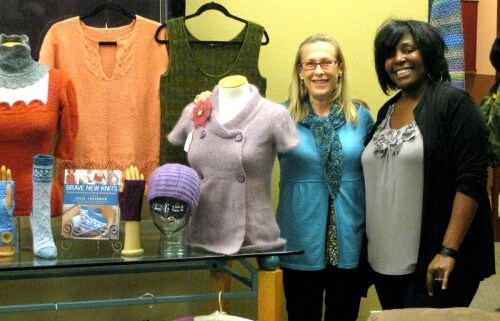 Yorkshire Yarns is also the LYS of my new friend, Jen Hagan (far right in the photo below), who introduced me to Sonya and facilitated the event. Jen hosted me during my visit to the Pacific Northwest; one more example of how the knitters' community has grown because of the Internet. I never would have met Jen (and her sweet husband, Fred) if it weren't for Ravelry and knitting blogs!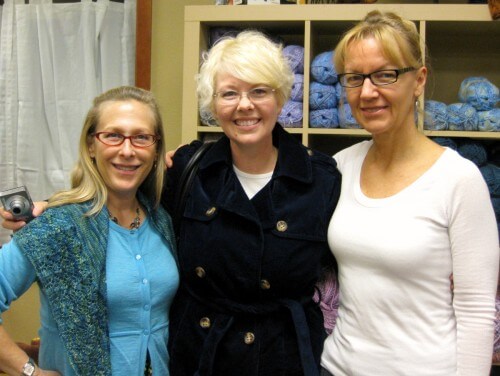 A good friend of Jen's did a fantastic job modeling many of the garments from Brave New Knits. Here she is in the Krookus Cardigan: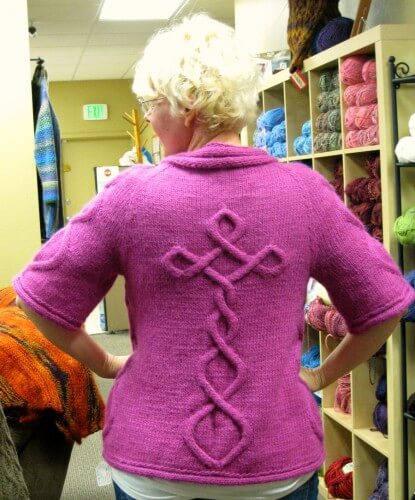 And here she is in Jen's own Global Cable Coat (with one of the pretty little Lace Flower Pins on the lapel). Jen is making a second Global Cable Coat to try out a different yarn… it's gorgeous already, and I saw only the first six inches or so.
Next stop on my whirlwind tour was Seattle's Tricoter. I confess that it has been one of the biggest goals in my knitting life to visit Tricoter, which has been one of the premier yarn shops in the U.S. for many years, and whose owners have published a few knitting books of their own.
Below is the staff of Tricoter, from left to right: Jason, Beryl, Julie, Ola, and Lindy. I spent a lovely afternoon there signing copies of Brave New Knits and meeting some of the knitters who are lucky to call this wonderful shop their LYS.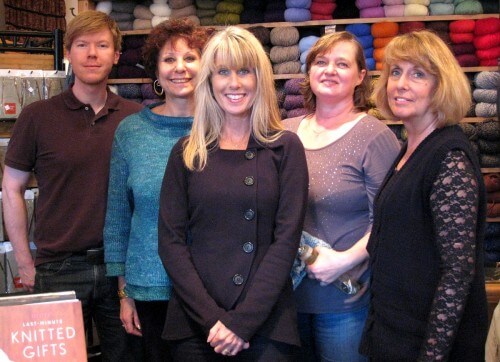 Jen met me at Tricoter for the afternoon to see the shop for herself after hearing so much about it over the years, and to introduce her amazing pattern line, Figheadh Yarnworks, to the owners. Below you see her working on that second Global Cable Coat… thanks for the company, Jen!