I've been hearing about Loop in Philadelphia for years, so it was a distinct thrill when owner Craig Rosenfeld invited me to do a signing and trunk show for Brave New Knits there. And I confess to feeling a shiver down my spine when I saw that his shop windows were full of neatly arrayed copies of the book, welcoming knitters inside for the event.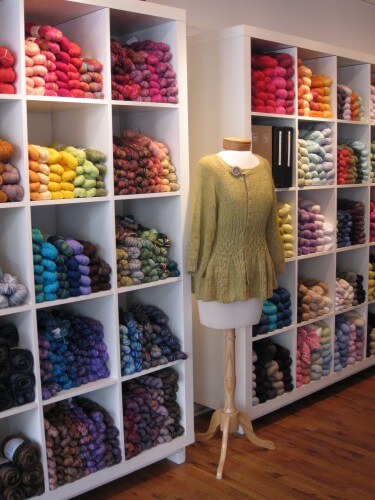 And what a beautiful, bright and airy shop it is! All those pristine cubes stocked in a color-coordinated rainbow of luscious yarn… I sigh with pleasure just thinking about it. It's no wonder that Craig's shop won Philadelphia Magazine's 2010 award for Best Way To Get Crafty.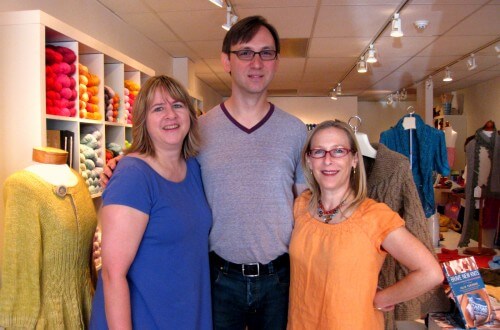 Here I am with Craig AND one of my all-time favorite knit-blog idols, Carol Sulcoski of Black Bunny Fibers fame, (and writer, and designer) who is even funnier and more charming in person than she is in her blog, goknitinyourhat. Carol drove in from the 'burbs for the event and oh my, I was all verklempt!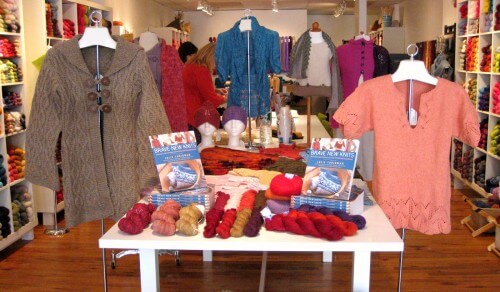 Craig had the display table stocked with more copies of Brave New Knits as well as a beautiful autumnal color story featuring yarns used in the book's projects – WOW! He wrote a lovely post (with additional photos) about the event here: http://www.loopknits.com/2010/09/26/julie-turjoman-and-the-brave-new-knits-trunk-show/ if you want to read more.