One of the many things I need to do better is post-event posting! A visit to the east coast at the end of September brought me to some fabulous local yarn shops, the first of which was Fibre Space, in Alexandria, Virginia. What a great space!
And although I was sorry not to be able to meet Danielle Romanetti, the owner of Fibre Space, I was very well cared for by Veronica and staff. Here's Veronica modeling Jen Hagan's Global Cable Coat  from the book- she really rocked it!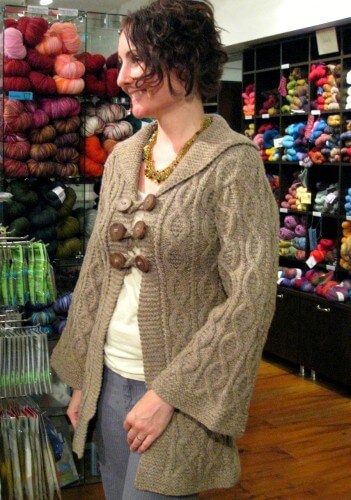 I absolutely loved Fibre Space's Jetson-like vibe, with funky light fixtures and funny-faced mannequins to display the projects from Brave New Knits.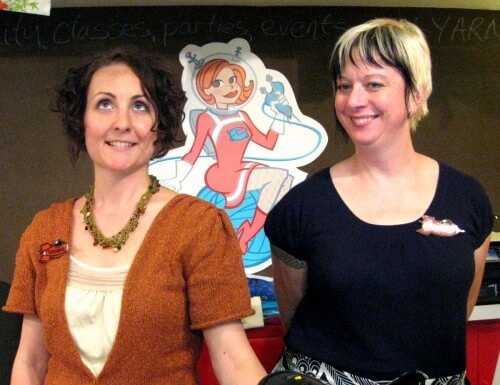 Oh, and did I mention all the yummy yarn? Located in charming Old Town Alexandria right outside of Washington, DC, Fibre space is a gorgeous and friendly shop all round.
Since my signing was scheduled for one of the shop's regular Thursday night Knit Nights, we had a great crowd. I was busy the entire evening signing copies of the book! Not only did the shop run out, but they took orders for another dozen copies. Thank you, Fibre Space!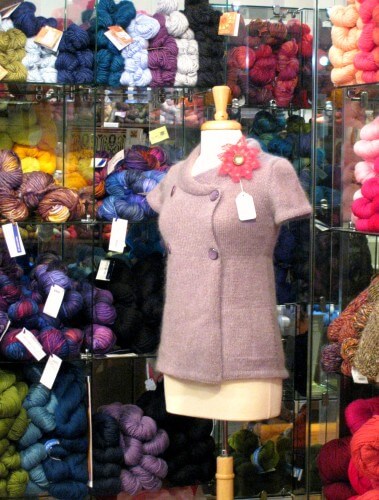 Koukla Cardigan by Hilary Smith Callis, and Lace Flower Pin by Kat Coyle
The icing on the cake was that I got to stay with a dear friend who lives in Washington; we go back a long way, but don't get to see one another very often.