The weather in NYC was absolutely bizarre last Thursday, when I was due to appear at Knitty City on the Upper West Side for a Brave New Knits signing. Outside, it was cool but humid, threatening rain all day but not making good on the threat. From the surrounding suburbs came reports of tornado-strength winds and downpours.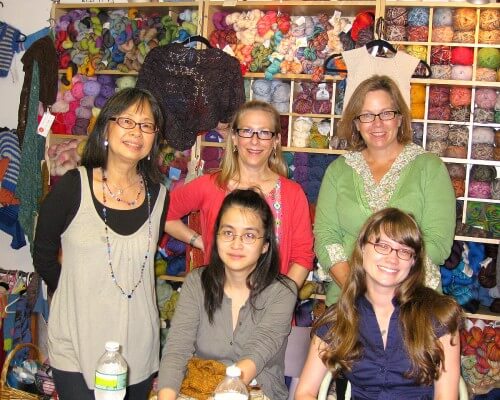 (Standing) Knitty City owner Pearl Chin, me, Kirsten Kapur, (Seated) Connie Chang Chinchio, Melissa Wehrle
My fears that this strange weather would keep knitters away from the event proved unfounded – Pearl's charming, packed-to-the-rafters shop was equally packed with knitters who lobbed questions at me and at the super-special guest designers who also came to the event; Kirsten Kapur of Through The Loops, Melissa Wehrle of Neoknits, and Connie Chang Chinchio of Physicsknits!
It was wonderful to see all of them again and catch up on the last year of their lives. All continue to knock out fabulous designs, not surprisingly.
Knitters who frequent Pearl's Upper West Side shop are a dedicated group; all were knitting away on their individual projects throughout the event, and it was fun to see what everybody was working on.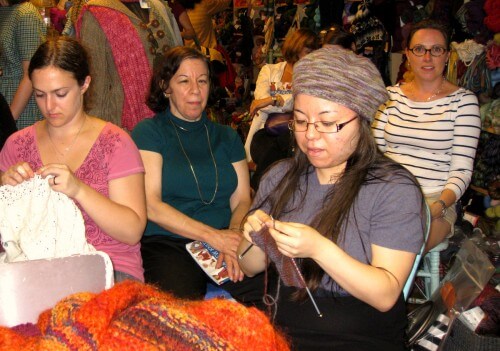 Knitty City has a friendly, homey vibe that makes it a great place to visit. When I arrived (dragging my steamer trunk-sized suitcase full of Brave New Knits projects behind me) there was a group of knitters sitting at a round table working on their projects, looking as if they had been there all day and had no intention of going home. It's the kind of shop you discover and then never want to leave. The fact that it is well-stocked with many of my favorite yarns made it all the more inviting.