How lovely to have a local stop next up on my Brave New Knits tour! Bobbin's Nest Studio is a fabric and yarn store located just an hour south of me, in Santa Clara.
And owner Erin McGee's shop is wonderfully diversified, selling both gorgeous yarn AND amazing fabrics and patterns for sewing everything from clothing to home accessories. What a great mix! Colorful, touchable, and a feast of eye candy in every corner.
Take a look at the skirts in the photo above; they are shop samples that just happened to coordinate perfectly with Mari Muinonen's Krookus Cardigan and with Teresa Gregorio's Milk Maiden Pullover from the book!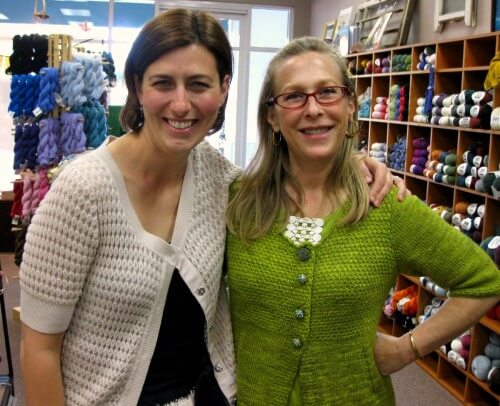 Erin is a tall drink of water, and I guess the beverage that most closely describes me is a single shot of espresso; you can't tell from the photo above, but she is bending at the knees, and I am standing on my tip-toes to bring us to a similar height.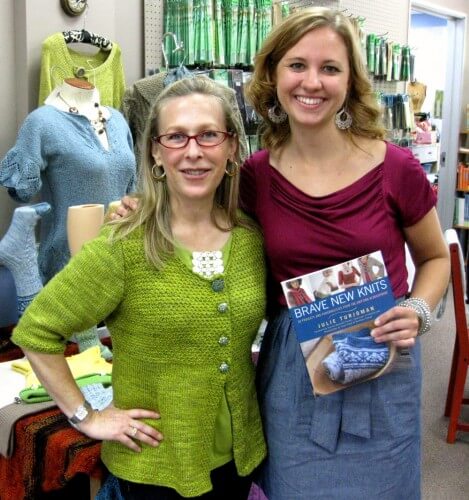 Jordana Paige, above, whose lovely and delicate Delysia Camisole is one of the Brave New Knits projects, is introducing a new collection of knitting bags to her product line. It was great to have her at Bobbin's Nest for the afternoon, too. Customers were very excited to have a two-for-one!
And speaking of customers, I met both a Facebook Friend (Hi, Diane!) AND a Ravelry acquaintance (That's you, Ien!) for the first time in person because both came to the signing. The internet is responsible for all sorts of meet ups these days.
With its carefully edited selection of yarn, books, fabrics, and patterns, all of which are artfully displayed in vintage cabinets, with cozy sofas and overstuffed chairs tucked into corners for customers who just have to sit and knit a while, Bobbin's Nest Studio would definitely be my go-to shop if it were located closer to home.