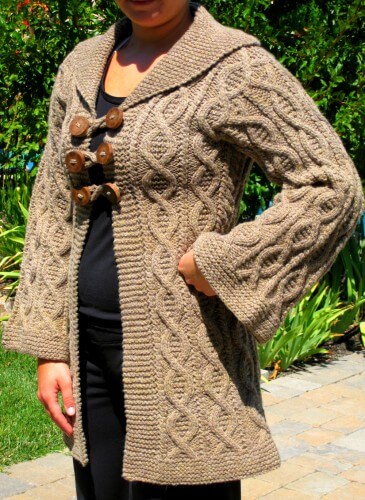 When Jen Hagan of figknits offered to make the Global Cable Coat for Brave New Knits, I had to pinch myself. The sketch she sent me was promising, but it was impossible to imagine how much more gorgeous this sweater-coat would be in real life.
Knit with bulky weight, hard-wearing Beaverslide Dry Goods McTaggart Tweeds & Heathers, this is hand-knit outerwear at its finest; wam and elegant, stylish yet practical. Although it would probably be too warm for all but our chilliest California winter days, I am sure that the Global Cable Coat will be a big hit in parts of the country that have a real winter (though I have to make it anyway… because Resistance. Is. Futile.).
Its simple cable repeat set off with garter stitch borders gives a luxurious texture to the project, yet in terms of difficulty an adventurous beginner could make it. Beautifully rustic, hand-crafted wood buttons by Jay Beesmer of Wooden Treasures are ideally suited to the hearty texture of this wool.
In the year since I interviewed Jen for the book, she has started a new pattern line adventure called "Mirth." As Jen tells it, "For my newer line, Mirth, I am working on a "Learn to Crochet" pattern and a "Learn to Knit" pattern complete with step-by-step photos and clear instruction. I have gotten very good feedback about the clarity and look of the Mirth patterns and this makes me very happy. Mirth is my adventure in digital publishing, as it is available only in PDF download." (Her Figheadh pattern collection is sold in hard copy through yarn shops nationwide.)
In addition, she is working on an e-book of glove patterns for Mirth as well. "There just isn't enough out there about glove knitting, especially as it compares to what's out there for sock knitting. I'm going to try to get gloves more attention!"
After taking a much-needed break this summer, Jen is back at work with renewed focus as we move into fall. She is blogging again and trying to do it more regularly. She has also put business pages on Facebook for both the Figheadh and Mirth pattern collections, and is trying to be more present and attentive on Ravelry.
On the freelance front, she is still working with Ravenwood Cashmere (a U.S. cashmere goat farm… when can we get some of THAT, I'd like to know?!) as she continues to promote local fiber.
She was thrilled to see Pam Allen's new business Quince & Co., because sourcing fiber domestically sets a great precedent for what Ravenwood Cashmere is trying to build on. As knitters and crocheters learn about the domestic fiber options becoming available for their knitting and crochet projects, she hopes more will make the effort to track it down and use it in their projects.
In addition to Brave New Knits, she has a chapter on blocking in DRG's new The Perfect Finish coming out in September. It will be offered as both a hard copy and as an e-book. Other books with her designs in them are in the works and are thus the dreaded "secret knitting projects" that cannot be talked about yet. No doubt, all will be well worth the wait!