The Brave New Knits book signing and trunk show tour has begun! Kicking it off with a trip to New England, I visited WEBS for the first time – surely a dream destination on every knitter's wish list.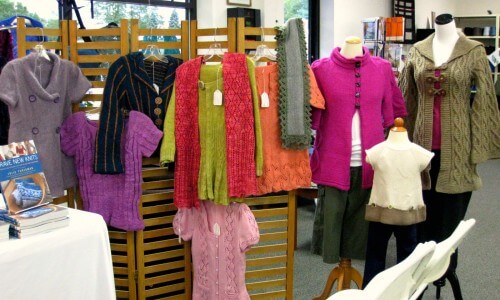 Retail Store Manager Karen Minott made lots of display forms and hangers available to me, which made it easy to set up all of the book's fabulous projects for visitors to admire. About 20 customers came to hear me talk about internet resources for knitters.
I took a brief poll at the beginning, and about half of the knitters in the audience raised their hands when I asked who did NOT regularly use the internet!
And those same customers, one by one, pulled out notebooks and started taking notes as I talked about the list of resources on my outline – which made me feel great because I love to spread the word about Ravelry, Yarndex, Patternfish, and other great sites that serve our community.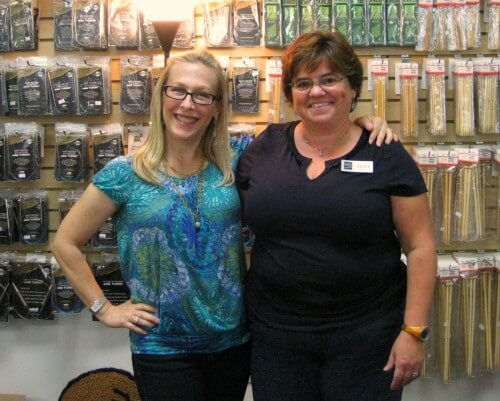 Here's Karen with me at the end of the evening. That display of knitting needles behind us is just the tip of the iceberg at WEBS. Karen was kind enough to give me a tour of their building before my talk began, and I was absolutely gobsmacked to see so much yarn under one roof.
There were several dazed-looking customers pushing actual shopping carts back in the warehouse, loading up with bags of gorgeous yarn!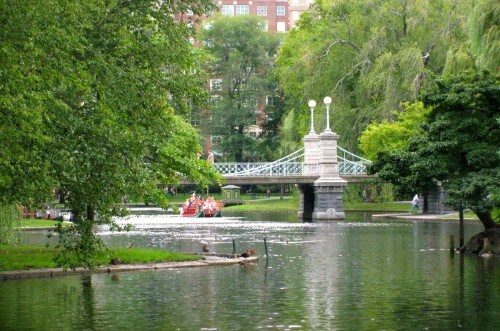 The next morning I drove from Northampton to Boston, where I had the rest of the day to myself to explore and enjoy one of my favorite cities. With the weather cooperating, I just had to get outdoors after a couple of hours in the car.
A stroll through the Boston Commons put me back into a good mood (I tend to think I love a good road trip until I actually get behind the wheel and drive for hours by myself with only the car radio for company!).
Walking back to my hotel via all the boutiques on Newbury Street was pretty tempting. If I hadn't blown my budget at WEBS the night before, it could have been downright dangerous.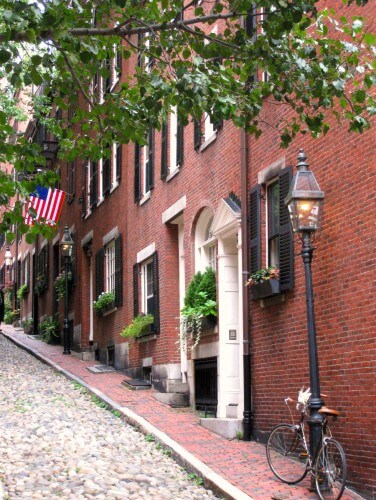 Continuing my explorations in Beacon Hill, I discovered charming cobblestone streets like this one, lined with beautiful old row houses, lushly planted window boxes, and antique street lamps.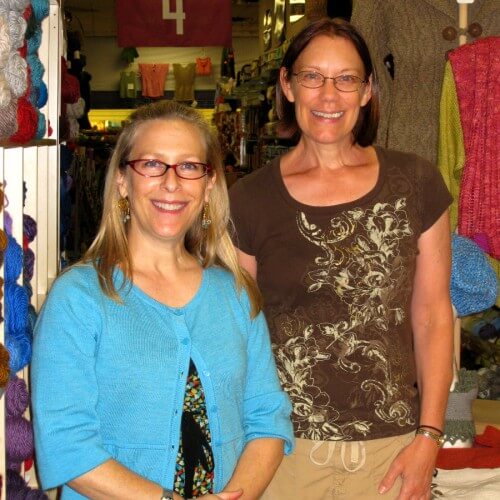 Saturday was the signing and trunk show at Windsor Button in downtown Boston, where Susan Baker was my charming host for the event. The shop is packed full of yarny goodies and, yes, they do have the MOST amazing button collection.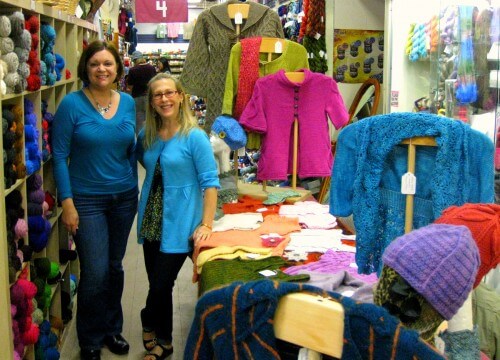 Special local celebrities whose projects are in Brave New Knits joined me at Windsor Button, including Grumperina.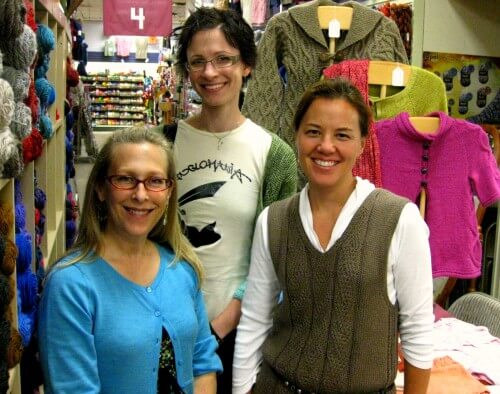 It was great to see Ann Weaver (center) of Weaverknits again – her first self-published pattern collection is due out any day! And Angela Hahn (right) of Kntitude fame drove in from Cape Cod to the event; it was such a pleasure to meet her in person at last, since when we did her interview she was still living in Italy.
The event at Windsor Button was so much fun, and sold out of all the books Susan had pre-ordered!