While back in New York last week, in between my other activities I managed to complete the Emily Dickinson shawl. I made one particularly obvious mod, though, that makes me feel I must call this "Emily Dickinson's Little Sister." For starters, she is full of holes instead of beads.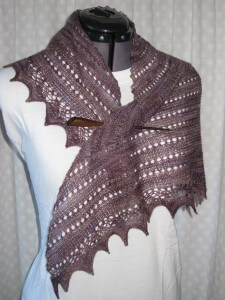 I used Woolen Rabbit Whisper Lace merino yarn in the color "Chocolate Chambord," which is really the color of roasted eggplant – the bruised purples and browns are enhanced by little skips of the most wonderful pale lilac. I used only about 1/4 of the 1700 yard skein, making this a very economical project. Placing beads only at the edge of the sawtooth border (where I quickly realized they would not be sparkly enough to show up), I worked simple yarnover/k2tog lace every fifth row or so.
The long edge of the shawl, blocked out, is 50″, and each of the two short sides is 30," making this a wonderful neck wrap or shoulder warmer.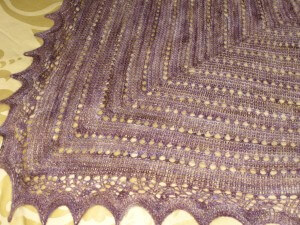 It's good to be home! It feels as if I've missed the last of spring, and now we are already in the throes of summer.