I make a lot of bouquets out of whatever is blooming in my garden, and love having fresh flowers in the house as well as outside my windows. During the spring and summer months there are lots of possibilities, sometimes a seemingly infinite variety of options to combine. Friends of mine, aware of my flower obsession, have enabled me with gifts of vases and other vessels to contain these bouquets.
While I don't pretend to have any special skill in flower arranging, every bouquet is a soul-satisfying opportunity to play with color and texture – and these are driving forces in my life. From my 20 years as an interior designer to my current and equally long-standing passion for knitting and beautiful fibers, the visual feasts of my garden and my yarn stash are what make me so happy to jump out of bed in the morning.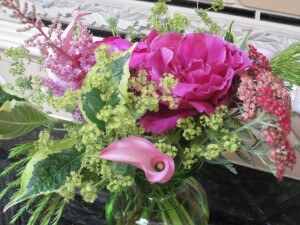 This particular arrangement includes pink calla lilies, astilbe, and pink yarrow, a single fat magenta rose paired with a cluster of equally intense geraniums, and leaves that range from chartreuse to bottle green. It's a decidedly Lilly Pulitzeresque color combination, but one that works in both flower combinations AND yarn: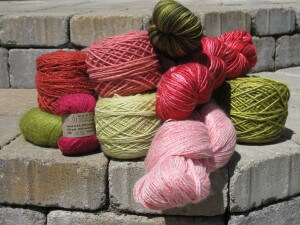 For all that I love color, it's surprising that I do virtually no Fair Isle or other colorwork in  my knitting. It's not that I wouldn't like to, but that I am still so enamored of the textural possibilities in cables and lace. While I sometimes play with color combinations such as those above, time and again when choosing a new project, I return to my purist roots and gravitate toward the solid and semi-solid colors in my yarn stash. They work especially well with the textural stitches I enjoy building into the projects I design.