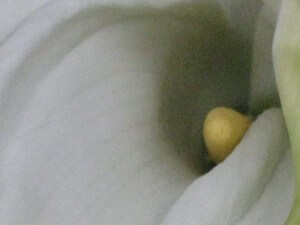 And this:
Not that I would ever compare my photos to the paintings of Georgia O'Keefe, but I do seem to be drawn irresistibly to take extreme close-ups of the flowers ripening in the garden. I love to study the abstract quality they assume, the new textures and colors they reveal, when the camera lens turns into a magnifying glass. 
Insane rainstorms the last couple of days, including a lengthy and rather loud episode of hail last night. The sound of it on banging onto the kitchen skylight was quite dramatic. I couldn't bear to go out to the vegetable garden today to inspect the tomato plants, which were already unhappy with the weird spring weather we've been having. Even Shadow looked up from her usually laser-focused personal ablutions to try and figure out where all the noise was coming from.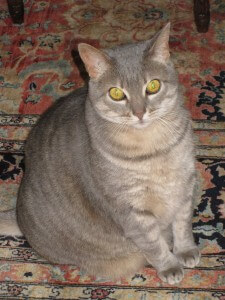 This year, spring is definitely going out like the lion, and I cannot say much for the lamb – that gentle creature is nowhere to be seen. In another few weeks, it will be hot every day. The rolling hills that surround us will fade from their current lush emerald green to a dry, toasted brown. At that point, I am invariably mesmerized by their resemblance to monolithic sleeping dinosaurs. Only the live oaks are still green by then, and patches of  our state's most pernicious weed most beloved flower, otherwise known as California poppies, splash their brilliant orange petals heedlessly across the landscape.