I've been looking forward to the launch of Twist Collective's Spring issue for quite some time, and here's the reason: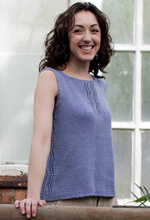 The Passiflora tunic is my debut design for this wonderful magazine. I couldn't be happier with the photography, the styling, or with the way the editors highlighted the various lace elements of the design. In creating Passiflora, I designed a reversible garment because I appreciate that kind of versatility in my own wardrobe. It can be worn as shown in the Twist photo with the modest single lace panel in front, or with the more revealing, repeating lace panel facing the world, depending on how much skin the wearer is comfortable showing off. I'd probably wear it with a camisole in either case, but I'm also thinking it would look adorable with a fitted teeshirt underneath.
Here's the back-to-front option: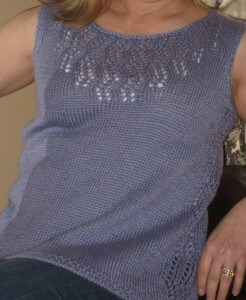 My other goal with this design was to create a simple garment with drape and ease in all the right places; the kind of tunic you wear out to dinner not just because it looks pretty (although that's an awfully good reason right there!), but because you also know you can make a total pig of yourself   lick your plate clean  eat a proper meal and not worry about whether your Spanx investment is up to the job. Sometimes we just can't stop ourselves from overindulging, and Passiflora makes those occasions a lot more comfortable.