I'll pick up my knitting needles again this weekend for the first time in a month. PT is helping with the flexibility in my hand, and I prefer to believe that knitting will only supplement the progress I've made despite all indications to the contrary. First up, finish the last sleeve of my February Lady Sweater, which did not get completed in February after all.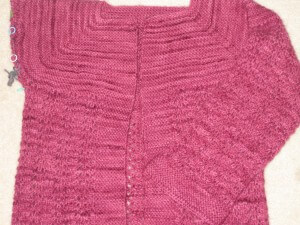 Although Spring is fully underway here, I should get lots of end-of-season wear out of it in the evening when the temperatures still dip down into the 40's. I may need some votes on the button choices, however, and will post photos of the options.
Next up is a secret project that I'm excited to start on, as well as a couple of other projects that have been languishing in my WIP pile for far too long considering how close they are to completion. Another cardigan is one of those WIPS, and it's still in the WIP pile because I got discouraged at how small it seems in its unblocked form even though I made a few sizing modifications. It's the Mr. Greenjeans pattern from Knitty's Fall 2007 issue. Now that I've taken another look at it, I am hopeful that my yarn choice (Elann's Peruvian Sierra Aran in a luscious bottle green) will block out nicely. Again, just one sleeve to go!