So you've probably noticed that I have finally resurfaced after a couple of weeks of radio silence (just what IS radio silence, anyway? I've always wondered…). Was off traveling to see my aged and not-terribly-healthy parents, and to take them to visit my daughter at college. She (my darling daughter, that is) was performing in a modern dance program – a timely occasion that proved sufficient enticement for my parents to make the four-hour car trip with me from NY to PA to see her.
With a double major in Business and French, I'm not sure how my daughter is finding the time to minor in Modern Dance, but she loves it and has come to regard the classes as nothing less than her guaranteed hours of exercise every week. The performance was wonderful; it was a choreographer's showcase with about two dozen short dances created by a group of former students and professional choreographers.
Got to spend one day in NYC, where I met my publicist for Brave New Knits and a yarn shop owner – Pearl Chin of Knitty City – who would like to host a signing/trunk show when the book is released this fall. She is so nice, and I am really excited about spending more time in her wonderful shop!
When I returned to California, it was to this: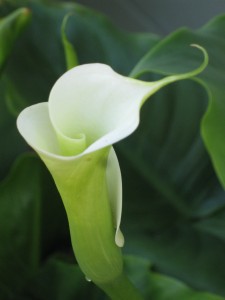 and this border of lavender and poppies along the driveway: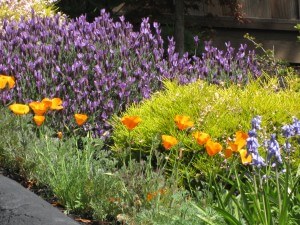 And the first of the roses; the Joseph's Coat are always the first to bloom: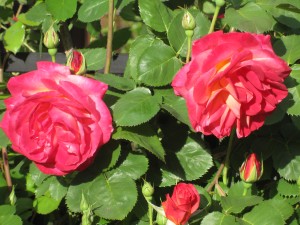 And the irises, which have really taken off this year. They are everywhere!