Finally, my February Lady Sweater is finito!!! Several months past my original self-imposed deadline, it's true, but with the sudden spring cold snap we're having here in the Bay area, I am wearing it right now and feeling very comfortable. Pamela Flint's pattern (or should I say Elizabeth Zimmermann's?) was a pleasure to knit up – oh, wait, I guess that's DOWN, since this is a top-down pattern! Once the body was complete, I enjoyed trying out my 12″ long Addi's for the sleeves. This was much easier going once I'd knit a couple of inches, and in fact for the second sleeve I began with my trusty dpns and switched to the circulars once I'd made a bit of headway. Does anybody else find this to be the case with the short circulars, or is it just me?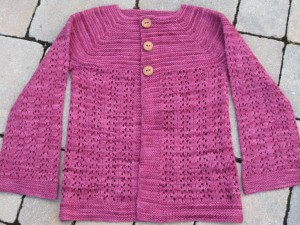 This yarn, Fleece Artist Organic Wool, was ridiculously soft and squishy, and blocked out beautifully. Pre-blocking, I couldn't quite close the cardi around my middle, and the sleeves were decidedly 3/4-length. Now that it's blocked, it closes nicely in front (I used giant 1/2″ snaps behind these 1″ diameter buttons from Wooden Treasures rather than work in three buttonholes), and the sleeves are perfectly full-length. With 500 meters per skein, I purchased only two for this project – and as it turned out, I have enough of the second skein left over to make at least a hat or a pair of mitts, and possibly both. A neckwarmer might be nice, too, come to think of it…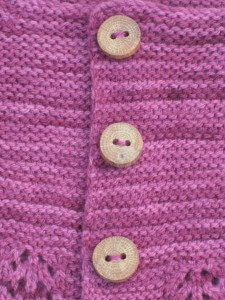 I'll try to get some modeled photos over the weekend, when my husband will be around to take a few shots. Meanwhile, trusty Grayce will have to be my stand-in.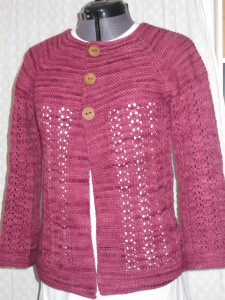 While photographing the FLS outside the other day, I couldn't help noticing that the clematis blooming around the garden is exactly the same color as the Fleece Artist yarn: