There's an infinite variety of things to do in the city, but a very finite amount of time and money with which to do them!
In the past week alone, I've attended the holiday party at my mother's assisted living facility, finalized more of the material going into my new knitting book and started designing patterns for the next one, hosted a holiday party for my neighbors in our building, made a return trip to Chicago's new Eataly to meet friends there for dinner (and definitely won't go back until after New Year's as it was a complete and utter madhouse), and decorated our little holiday tree: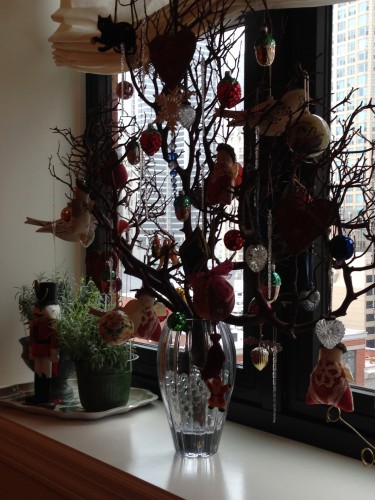 It looks a bit sad and lonely on the windowsill, but it suits us: I like the simplicity of the manzanita branches and the mix of ornaments we've collected over the years. It has the added advantage that it doesn't have to be taken to the curb after New Year's (although the ornaments do have to be returned to their boxes). And Shadow, for some reason, leaves it alone. This is the same cat who used to bat at the glass ornaments and try to eat the pine needles in the years when we still brought home a "real" Christmas tree!
Among the events I look forward to every December is Chicago's One Of A Kind Show and Sale at the Merchandise Mart. This year's was as terrific as ever; packed with people, but full of lovely gift ideas. This gigantic wreath constructed of yarn balls definitely made me smile!
It seemed that there were fewer painters and other fine artists, and many more jewelry vendors than in past years, but jewelry was not on my shopping list. Instead, I found an adorable monster doll for friends who are expecting their first child this month:
There were also several clothing and hat vendors. I haven't seen such imaginative – but wearable – garments and accessories outside of exclusive little boutiques, and it was fun to try on things that I admired but wouldn't necessarily wear.
Confession: In the category of things I most definitely WILL wear, I did find a hat that practically leapt into my arms and demanded to go home with me. I'm a sucker for great millinery, and Karyn Gingras of Lilliput Hats had such a gorgeous, elegant collection that I Could. Not. Resist. Photo to come…