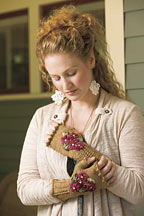 I received a copy of Interweave Knits Holiday Gifts 2011 last week. Lo and behold, my ongoing desire to design fingerless mitts patterns continues to bear fruit.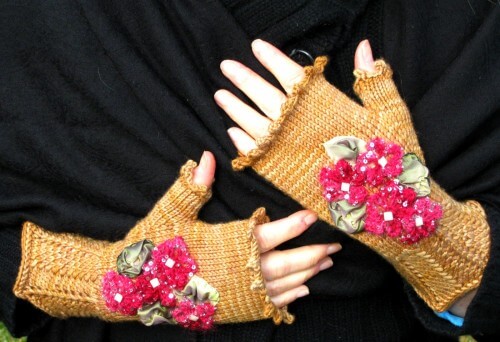 Designed to fit into the section titled "A House With Gables" theme (for the projects' ornate embellishments), I LOVED creating the Handwork Mitts design. Not only do these mitts include a feminine picot bind-off, but they feature a simple but effective lace cuff as well.
Add to that the knitted and appliqued blooms that adorn the back of the hand. And, there are two options for those pretty little leaves that anchor the blossoms in place. IK shows both – very nice of them!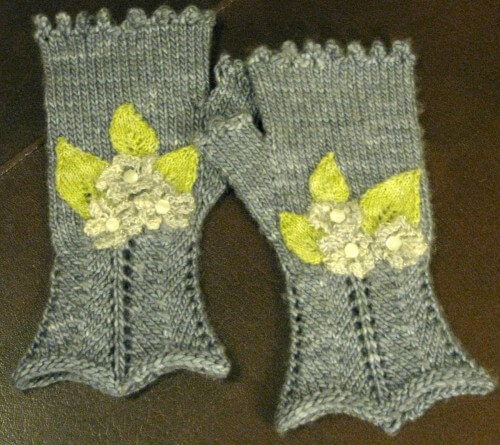 My original prototype (seen above) had tiny knitted leaves, worked on US Size 1 needles. The version of this project that made it into the magazine features wired-edge ribbon leaves, snipped into 3″ lengths and folded the long way, then stitched to create a center seam, as shown below. Charts for the knitted leaves are also included.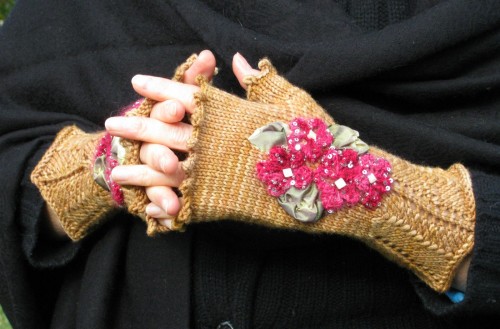 Below are the photos showing how IK modeled the mitts. So delicate and pretty, no? I'm always thrilled by how they photograph and style my projects.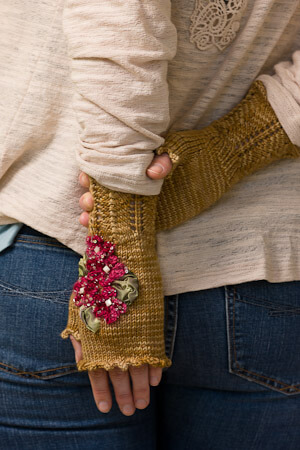 The mitts themselves are easily a weekend project, and the knitted flowers work up, literally, in minutes (and are a fantastic way to use up those little remnant lengths of luxury fiber that we can't bear to throw away). The leaves take a bit longer, but not much. So if you have a girly-girl on your holiday gift list this year, these Handwork Mitts should elicit the appropriately joyful squeal of happiness~!