Lately, it seems as if everybody I know is having a baby. Some of my older friends have grown children who are starting families of their own. Some of my younger friends are adopting or bearing children at an alarming rate. Alarming only because I want to knit for all of them, but am simply not that productive.
Yes, I know baby clothes are small, use less yarn, and ostensibly work up much faster than handknits for adults. This is often true, but when you're a slow knitter like me sometimes you just have to bite the bullet and pay a visit to Baby Gap.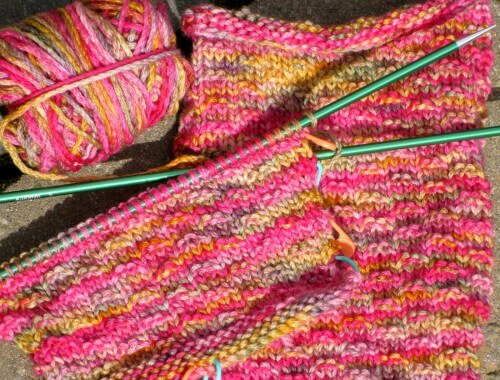 This particular item will be a cardigan for a new baby girl. I started with the sleeves to make sure I'd be happy with the way this yarn knits up in the textured pattern. Sure enough, the effect is quite pleasing. The texture masks any pooling of the Koigu Kersti yarn I'm using (US Size 6 needles, for anybody who is interested).
I love these colors; they remind me of an especially vibrant tropical sunset. I even have plenty of skeins, having purchased enough to make an adult-sized sweater. In fact, I should have enough to make a couple of baby sweaters, with hats and booties to match.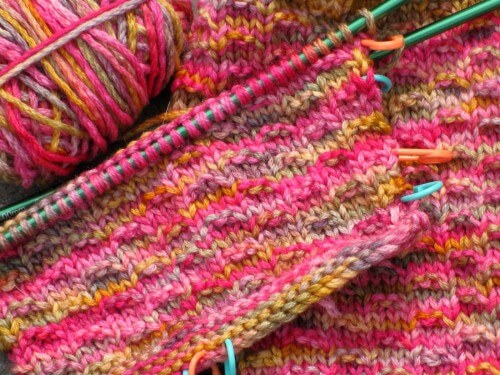 This Kersti has been in my stash for a long time, and although I quickly decided it wouldn't work for me as an adult garment, it seems quite perfect for a child.
When swatching with it long ago, I discovered that unless I am constantly vigilant, it splits quite horribly as the point of the needle goes into each stitch. Who needs that kind of headache? For a full-sized sweater, I don't have the patience. But for a baby project, I can put up with it.
Now to search through my stash for the perfect buttons!