Every once in a while, I remember something I forgot. The Blue Pleated Cardigan is one of those.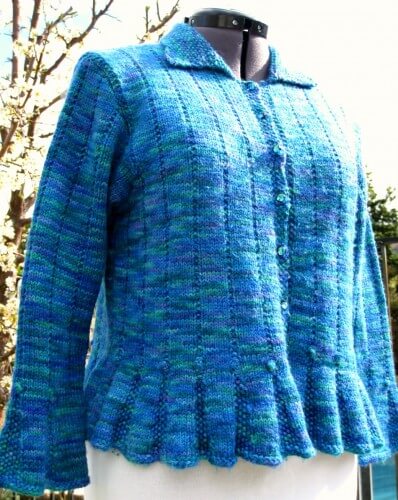 After I finished making it in 2009, I wore it to death for at least a year. Then, for reasons I no longer remember, I consigned it to the top shelf of my closet. That is to say, the shelf I can reach only if I stand on the kitchen step stool and reach up as high as my arms will go because that damned shelf is really high. The things that wind up there often don't see the light of day ever again, or at least not often.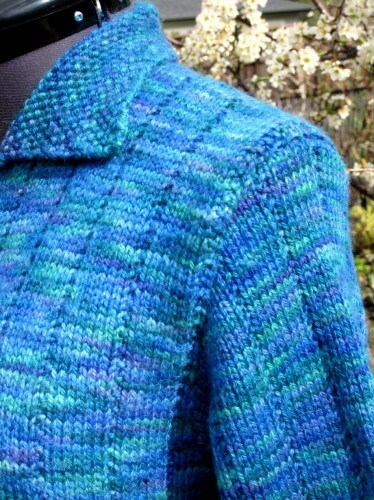 But the other day, I was fishing around up there looking for something else, and I rediscovered my old friend the Blue Pleated Cardigan. Tried it on and wondered what I could have been thinking when I put it up there, because I still love it, it fits me just fine, and the yarn (which I'm pretty sure is Shaefer) is so soft and warm – perfect for this time of year.
As detailed on Ravelry, this project evolved out of my desire to create a classic button front cardigan that combines supreme comfort with stylish design details.
Seed stitch ruffled "pleats" fall gracefully over the hips and taper up into a bobble, from which point they carry up into the body of the sweater as widely spaced ribs. These pleats result in a feminine and flattering peplum effect that eliminates the need for any additional waist shaping.
It is knit in pieces from the bottom up, with set-in sleeves that bell out at the ends due to the pleat detail. The seed stitch collar and button placket add texture that does not compete with the lovely shades of teal, green, and purple in the yarn.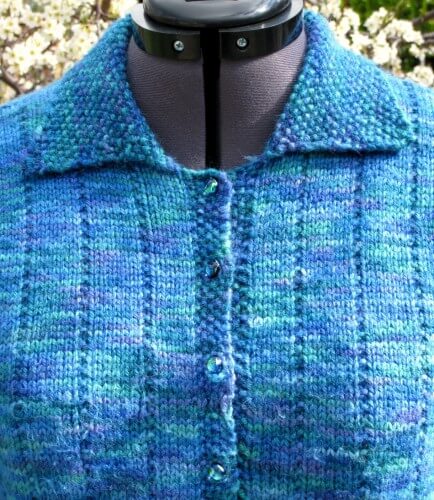 Gleaming art glass buttons were the finishing touch of which I was most proud; the colors in the glass are dead-on against the colors in the yarn.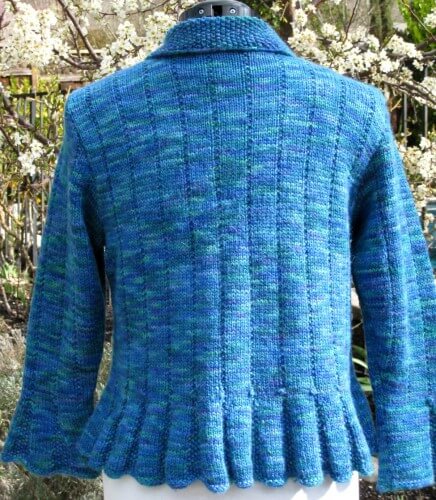 Not intending to self-publish this design, I never wrote up the pattern from my notes. I could probably recreate the notes now and devise a pattern, but I kind of like the idea that this cardigan is one-of-a-kind!