Another recent FO to share, Sabine is my first – and perhaps my only – knitted holiday gift for this year.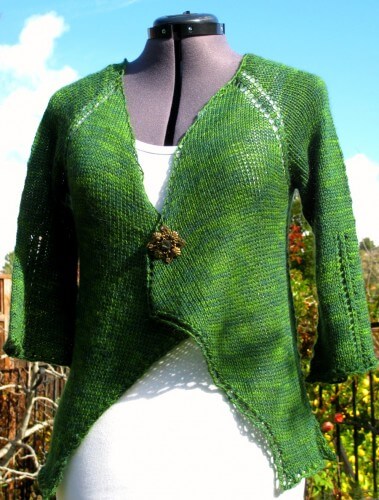 Sabine is for my daughter, who goes to college in a cold-winter climate, who has coveted this yarn (Mountain Colors "Bearfoot", a DK weight blend of wool, mohair, and nylon) ever since it first appeared in my stash, and who is the apple of my eye (as the saying goes).
The creation of Julie Wiesenberger of Cocoknits, Sabine is a drapey cardigan knit seamlessly from the top down, with simple eyelet lace details that add a bit of hourglass shaping to the back and a gentle flare to the three-quarter length sleeves. In its own quiet way, it is a joy to make.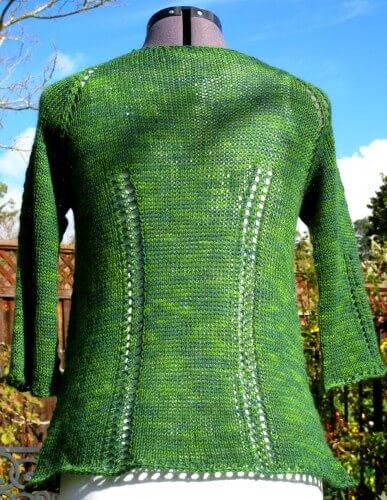 I first became familiar with the collection of Cocoknits patterns when Julie agreed to participate in Brave New Knits, (her Button child's tunic is utterly adorable and equally easy to make) and was immediately drawn to the elegant simplicity of her designs.
Yet, her patterns include graceful details and ingenious assembly techniques that make the finished garments look more complicated than they are.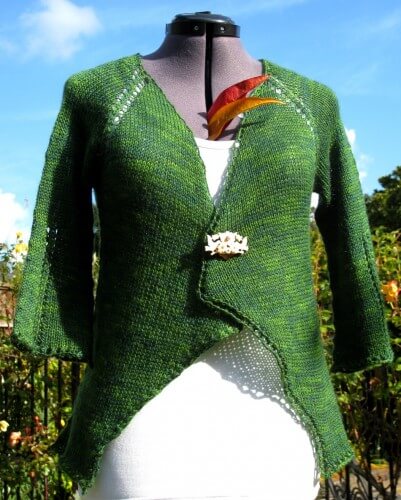 They are heavy on the stockinette, making them excellent projects for evenings when I may watch some TV and don't necessarily want to work on more demanding projects.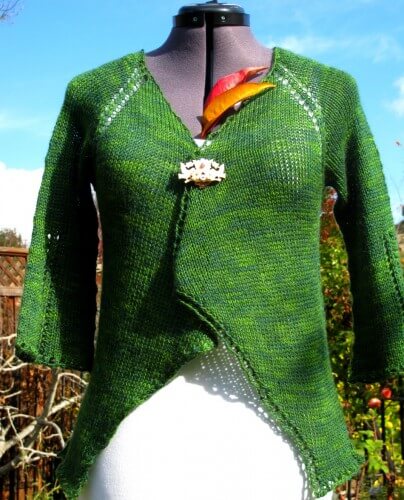 Those gorgeous leaves from our peach tree add just the right autumnal note, don't they?