Knitting books that feature a wide variety of projects (as opposed to knitting books that focus on one kind of project such as shawls, or hats, or sweaters, etc.) always win points from me for including at least a couple of pairs of socks.
As I assembled the projects for Brave New Knits, I knew there would be socks and I certainly hoped that the designers who volunteered to make those socks would offer up unique ideas.
They did not disappoint, and today the spotlight is on Kirsten Kapur of Throughtheloops, whose lovely Sockstravaganza project made the cover of the book!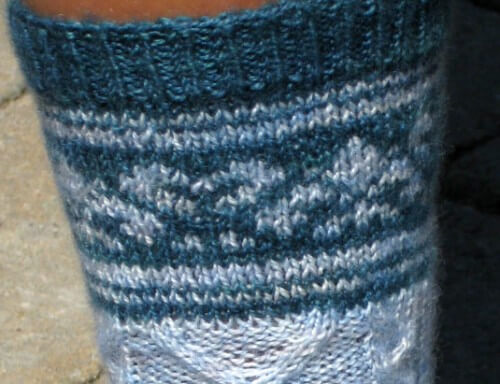 The Sockstravaganza socks are so named because they incorporate both cables and colorwork into a single really fun design. The colorwork cuff and leg continue down into a single color cabled foot with ribbed heel.
Kirsten had wonderful materials to work with as well; namely, Deb Kessler's Fearless Fibers Tight Twist Superwash Merino Wool Sock Yarn in two gorgeous colors: "Spellbound" and "Sloth."
Not only is the fiber itself fantastic to work with for socks, shawls, and even tiny toys if that's your thing, but Deb is a color genius whose yarns are beautifully semisolid, somehow managing to be both subtle and saturated.
With the variety of lace weight, sock weight, and other yarns she carries in her Etsy store, it can be hard to choose which to buy, but her colors are consistently gorgeous!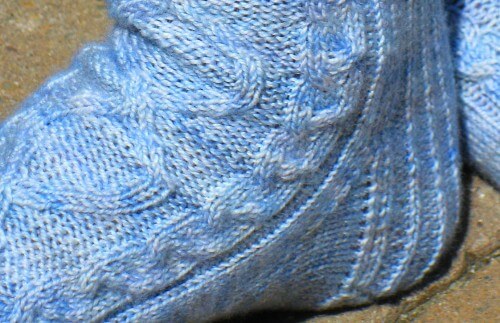 In the year since Kirsten and I met to do her interview for Brave New Knits, she has contributed to several more books, one of which is Stitchy McYarnpants & Caro Sheridan's book Knitting it Old School, which was also released this month.
Kirsten's adorable Swing Time short-sleeved pullover has a delicious "pin-up girl" vibe to it, don't you think?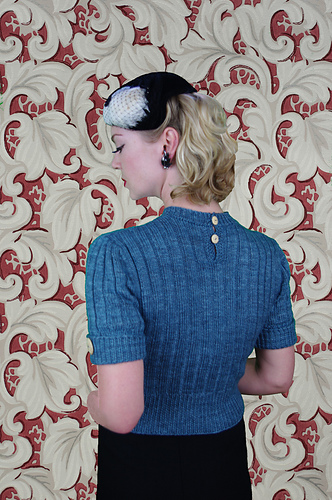 Photo Copyright 2010 by Denise Siegel
After spending the first half of this year working on commissioned projects, she finally has the time to focus on resuming her self-published designs. And one of her favorite parts of self-publishing is the feedback she gets from knitters. "I really enjoy the way online self publishing allows me to have direct contact… with knitters."
This October she will host the Through the Loops Mystery Sock KAL for the third consecutive year. Flickr and Ravelry, as well as her colorful blog (in which her musical and brilliant teenagers make frequent appearances as in-house models for all those knitted designs) continue to be the primary ways that she documents her work. Like many of us, Kirsten also enjoys connecting with other knitters on Twitter. Definitely an indie designer for the 21st century!