Habu Goddess Tunic = Knitterly Happiness
If I look absurdly happy in the photo below, it's for two reasons:  1) the Habu Goddess Tunic is finished, blocked, and seamed, and who wouldn't be happy to wear a garment as comfortable as this? And 2) my husband took these photos, and he has a knack for making me laugh (one of the many reasons I married him!).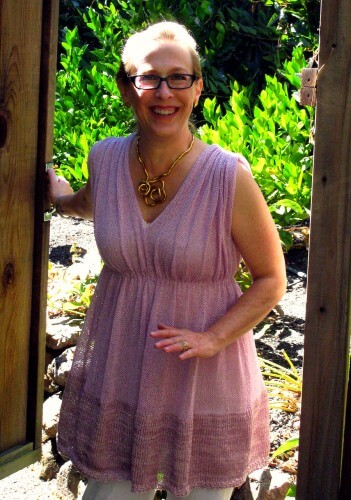 Babydoll or Blouson? You Decide!
While threading lengths of 1 mm elastic cord in two rows under the bustline of the tunic, I had an epiphany: this garment is even more versatile than I had first imagined.
I realized that for a knitter who prefers a blouson style that is full on top and gathered at the hips instead of under the bust, it would be just as simple to thread the elastic in two rows just above the 6″ border. This small modification would give the tunic an entirely different appearance and feel.
Although the gathered shoulders are completely secure and create that wonderful soft drapiness down the front, another embellishment would be to tie narrow ribbon or I-cord around the shoulder gathers, tightening them up just a bit more.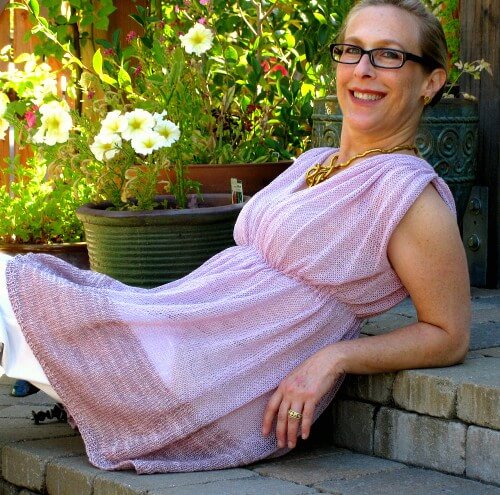 3 Simple Ways to Change the Look
Another easy modification would camouflage the elastic cord, which is virtually unnoticeable anyway due to the gathers in the knitted fabric.
Here are a few different options; 1) ribbon, as I showed in the last post about this garment, 2) long I-cord ties that wrap around the tunic and knot in front, or 3) a belt. I tried a narrow, metallic gold leather belt that immediately made the tunic feel dressed up, but a braided fabric or leather belt would also work beautifully. 
Here's a shot of the back view; I made the center seam about 2 inches higher in back than in front, and it still goes on easily over the head. Although it's not really obvious from the photos, there is no edging around the neck or armhole edges. The Habu Tsumugi Silk drapes so beautifully on its own that it rolls neatly to the inside and eliminates any need for that extra step.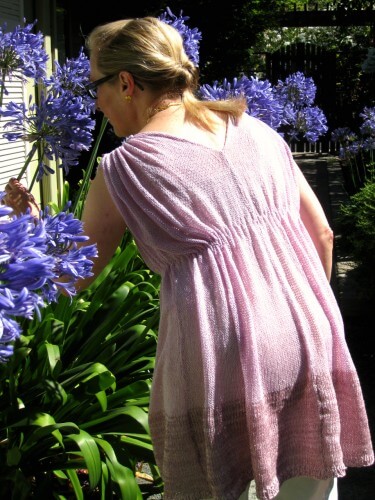 Short or Long? Hmmm….
I made the tunic quite long, and because I am short, it is really long enough to wear as a mini-dress if I were a mini-dress wearing sort. Although I had on white jeans for the photo shoot, I would totally wear this with leggings because it hits me at mid-thigh; well past any jiggles that might make me self-conscious.
I'm actually tempted to make a shorter version that hits just at the bottom of my hips – and, yes, I'm enough of a crazed Habu fan  mortified to admit that I do have enough Habu in my stash to make a second one.
I got a lot of vacation reading done while working all the Stockinette for this tunic, and could definitely be persuaded to make another! Not that I have another vacation coming up any time soon, more's the pity….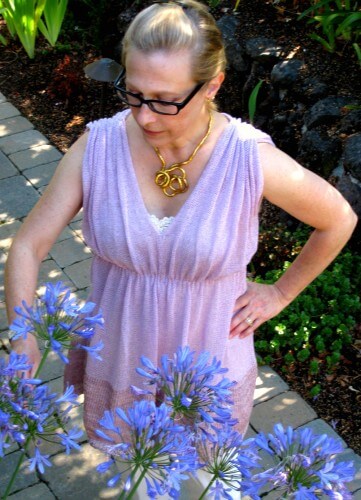 Cool Comfort for Hot Weather
The fine Habu Tsumugi Silk knits up with a lovely translucent quality on US Size 6 needles, so the Goddess Tunic will take me through the rest of the summer barbeques on my calendar. It is sheer enough that I felt most comfortable wearing a light cotton camisole underneath.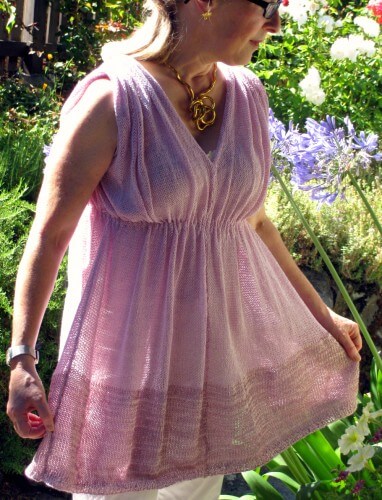 If I write up the pattern, which version will you make: Wrap-front or straight? Babydoll or blouson? Hip-length or tunic? Belted, beribboned, or bare? I think I need to sit down now – the options are making me dizzy!