Although none of my friends are having babies anymore, at least their own kids are. It's so nice to have an excuse to knock out an adorable baby knit! This sweet little sweater, based on a free pattern from Jimmy Beans Wool, is called the Presto Chango (by Valerie Wallis) and took one week to work up. Seriously, it almost took me longer to choose the buttons than to knit it. These oak leaf and acorn buttons were a trial run, but ultimately determined to detract from the center lace panel.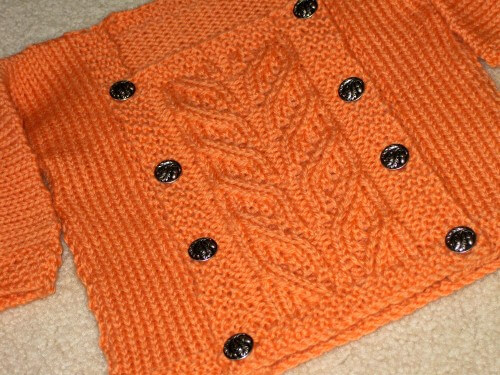 My friend's daughter-in-law was gratifyingly appreciative when she unwrapped it at her baby shower last weekend, making me even more glad that I had made the effort. My friend, Suzy (the mother-in-law), is an amazing knitter herself – an absolute perfectionist who has never met a technique or fiber she couldn't turn into something gorgeous. These vintage mother-of-pearl buttons were the winners: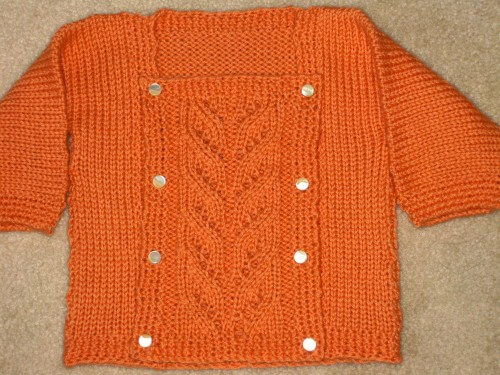 I don't know the mother-to-be very well, so I almost did it more for Suzy because I knew she would appreciate it and make sure that it is cared for properly. That's something we all hope for when we labor over hand-knits; there's no joy in seeing it worn some months later by the baby's toy teddy bear because it shrank in the wash, right? I try to include a label from one skein of the yarn (and in this case, the project required only two skeins of Elann's Peruvian Collection Highland Wool in color #1004: Pumpkin. Now that's what I call a cost-efficient project!).