With my right hand bandaged to resemble a catcher's mitt, you'd think my entire hand had been spectacularly mangled in our blender rather than what are probably a total of ten stitches and a little bruising here and there on the two fingers that were fixed. Given this state of affairs, I obviously cannot knit. Nope, cannot knit a whit. Cannot knit, not even a bit (OK, enough with the Dr. Seussian rhyming). And it's torture, I tell you. Last night, I finished The Help, which I really enjoyed, but it is unlike me to finish a book with that many pages in just two sittings. However, when one cannot knit, one reads, at least in this house.
Think about it. There's not much cooking I can do with one functioning hand (Hear that, honey? Can we get take-out again tonight?) which probably explains the irresistible urge I had to make the blood orange marmalade right before going under the knife.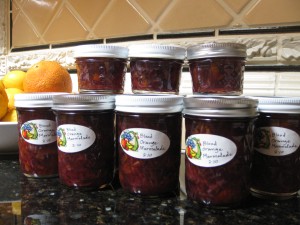 I really can't even focus enough to watch television without my knitting clicking along in my lap; it's… just… too… passive. I do seem to be one of those people who hears, absorbs information, and learns better when my hands are busy. Although I will make an exception for the Oscars on Sunday night, because that's more of a participatory experience, more like sport – yelling at the TV, screaming at Joan Rivers' plastic surgery, keeping up a running commentary on the red carpet gowns and bling, etc. 
At least yesterday I wore my completed Citron shawl when I went out for lunch with a friend to Bakesale Betty's for the fried chicken salad (And there's so much delicious, crispy-coated chicken and tangy cole slaw salad in there that I took half of it home with me to have for dinner), and I felt a little better knowing that I had completed it right before the surgery. It gave me a small sense of accomplishment to know that it was my Emergency Pre-Surgery Project, and I had actually finished it.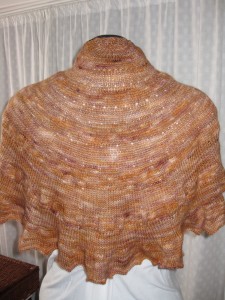 Other than that, all I've been able to do is pet the yarn I bought at Stitches West last week. These signs of withdrawal are truly pitiful to behold. Just ask my husband, who has come upon me more than once this week holding a skein of hand-dyed yarn up to my nose, eyes closed in ecstasy. I inhaled its bouquet like a glass of fine wine while he rolls his eyes and tiptoes out of the room, but those skeins might as well be good wine; I get a bit giddy thinking about the possibilities of each one. I brought home yarn from the likes of Pigeonroof Studios, Brooks Farm Yarn, Handmaiden and Fleece Artist, and Miss Babs. Absolute heaven! That and getting out into the garden to see what has blossomed in the last 24 hours are what's keeping me going.