… sounds like a newspaper headline ripped from the seventeenth century, doesn't it? Thank you for that romantic declaration, Mr. Shakespeare. My own DH, never faint of heart, surprised me with an addition to my transferware pitcher collection for Valentine's Day.  It was a most unexpected and welcome surprise, since I've been on a shopping diet since the New Year. But it wouldn't be polite to complain when somebody else buys me something I just happen to be thrilled about.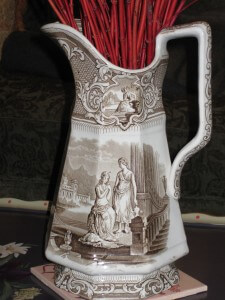 This particular specimen is enormous, standing a full 12″ tall, and the mark on the bottom reads, "Manufactured for Davenport Bro." with a New York City address. I'll have to do some research to find out where it was actually made. I imagine a pitcher of this size was originally part of a set with a wash basin. Frankly, we suffer from a bad case of wretched excess bit of clutter in this house, so the pitcher alone is more than enough for me!
It is so good to be home from my travels. I spent most of last week in NY, where I had the unaccustomed pleasure (and much-needed workout) of shoveling my parents out of their house in the aftermath of the snowstorm that shrouded the East Coast on Wednesday and Thursday. Where they live, an hour or so up-county from NYC, it looked like this most of those two days: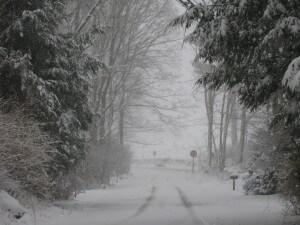 I definitely got my exercise shoveling the walk and driveway multiple times over the two-day period. It was really kind of a masochistic good samaritan treat for me, since I rarely get to see snow at home. Of course, the persistent runny nose that comes with hard labor out of doors was not as enthusiastically received.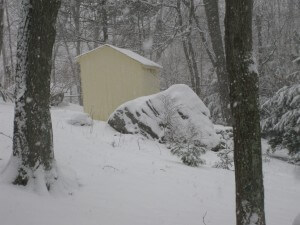 Call me a sissy if you will, but I was glad to get back to my temperate California climate late last night, even though the airline did not manage to get my suitcase onto my connecting flight (despite the full hour layover between them!). One thing I noticed about the east coast in the middle of winter is how dry the air gets. My hair was a standing nest of static electricity. Every time I put on my coat or pulled a sweater over my head, my hair would stand on end as if I'd stuck my finger into the proverbial electric socket. Patting it down with damp hands became a weird short-term grooming ritual.
On Friday, I drove on to Pennsylvania to visit my daughter at college. She needed a little spoiling from her old ma, so in addition to dinner out in a real restaurant (as opposed to cafeteria food which, while perfectly adequate in its own right, suffers at this time of year from a distinct lack of variety), I presented her with the afore-mentioned hand-knit Valentine's Day gift: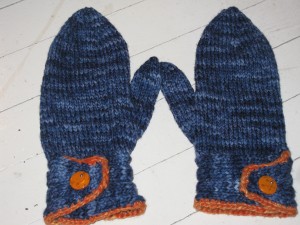 The School Spirit Mittens. If your school colors have to be navy and orange, this navy-heavy proportion makes it less of an awful combination. I wound up nixing the embroidered orange heart idea on the palm of each hand, and it's a good thing I did. She likes them just as they are. The project was a great stash-buster, using a fraction (roughly 125 yards) of my last skein of Blue Moon Fiber Arts Twisted, in the color "In the Navy," and a few yards of Noro's Cash Iroha in color #116 (vibrant orange) for the single crochet trim. The vintage orange buttons were a find at Article Pract, one of my favorite LYS in the Bay area.