Others have written more eloquently than I possibly could about the Orphan Foundation of America's Red Scarf Project, and its urgent need for more scarves to include in holiday care packages that will be sent to kids who have aged out of the foster care system. This project grabbed my heart; with a daughter of my own in college, it is painful to think about what her life would be like with no parents or family to guide her into her adult years. So a contribution to the Red Scarf Project seemed like a small gesture in light of the enormity of the need. Although my charitable giving this season already includes a donation to Heifer International to purchase a lamb for a family in South America that will raise it for its wool, I wanted to do something positive for an organization in need right here in the U.S.
I went to the gift shelf where I keep scarves, mitts, and hats that are destined to be gifts for others, and came up with three scarves that fit the criteria for the Red Scarf Project. But three already completed scarves seemed almost unfairly easy – no immediate sweat equity from me required. So I made an additional fresh one using a wool and cashmere blend from Colour Mart. Although the scarf felt a bit rough to the touch during the knitting, once I had washed it, it grew gloriously soft and drapey – and a generous 68″  long to wrap someone up snugly this winter.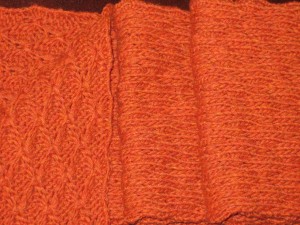 The tuck stitch looks fetching on both front and back, and I hope it will make one of the OFA's care package recipients feel just that much more appreciated.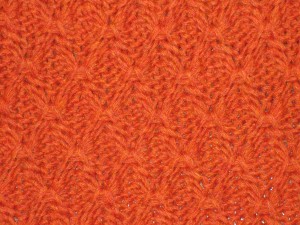 I sent off the box with all four scarves yesterday. Now that I know about this project, I'll get an earlier start next year!