I admit to being a francophile, though I have not visited France in several years. But aside from the obvious attractions (the wine, the cheese, the CHOCOLATE…), there is something about driving out of Paris into the countryside and seeing, suddenly, rolling green hills and tidy manicured farms appear where only minutes ago suburban sprawl was everywhere. This is simply by way of preamble to introduce today's topic: the French Child's Socks from Knitting Vintage Socks by Nancy Bush.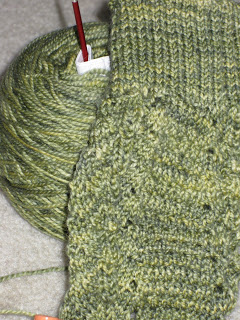 I'm working my way down the foot of the first one and so far am quite enjoying the process. It has been a long time since I last knitted a pair of socks, and I'd forgotten how wonderful they can be. And giving, generous knitter that I am, I've never before knitted a pair for myself – only for others (who shall remain unnamed, because they don't even wear the socks I slaved over to make for them! Hissss…). These, however, are to be all mine. Between the Signature DPNs in size 2 that make the knitting an absolute pleasure, and Sundara's delicious sock yarn in Basil Over Buttercup, I am in heaven. The only other thing I need beside me with my cup of afternoon tea is a vase of these: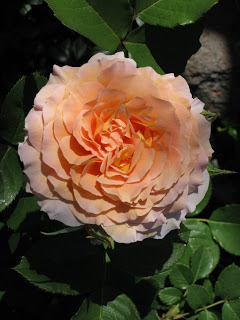 They're called Honey Perfume roses, and yes, they are aptly named. The fragrance is strong, spicy, and absolutely intoxicating.