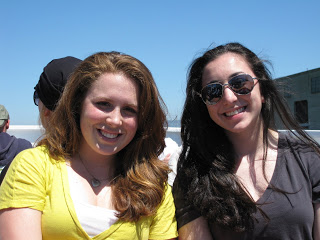 My daughter's friend Sophie visited from Boston over the weekend, and we took advantage of her presence to be tourists in our own town, showing her the sights of San Francisco. Starting off with dim sum at Yank Sing is never a bad idea, though the girls were a bit flustered when little plates of unrecognizable dumplings appeared on our table within seconds of being seated.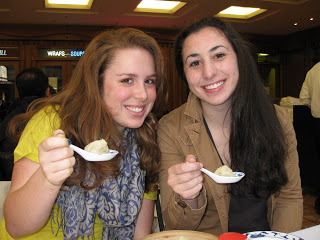 I hate to say this, because fans of the soup dumplings at Joe's Shanghai in New York City's Chinatown will take it as a challenge; BUT the soup dumplings at Yank Sing are as good as, if not better than, the ones at Joe's. No lie. We ordered seconds!!! And that's ordinarily something that happens only in New York. We ate like Olympic athletes loading calories before the big race total pigs, but it was all too delicious to stop.
Never having ventured to Alcatraz on our own (well, we've lived here only eight almost nine years, after all), we took the cruise ferry over to the island and spent a happy couple of hours touring the prison, reading about all the big name residents such as Al Capone and the Birdman, and enjoying an uncharacteristically gorgeous and sunny San Francisco day.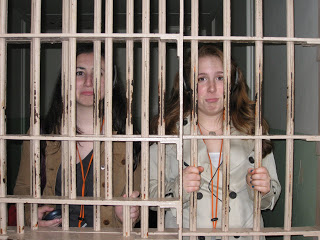 Without planning it in advance, we crossed all three of the major bridges that lead into and out of San Francisco by deciding to take Sophie up to Sausalito following the Alcatraz tour. It was either that or Ghirardelli Square, and there's only so much schlocky tourism one can tolerate in a single day without the help of ice cream. And no visit to Sausalito would be complete without a visit to Lappert's Ice Cream, the rock sculptures at the harbor,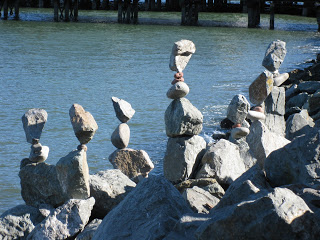 and the Birdman of Sausalito, whose gorgeous feathered friend took a shine to Rachel…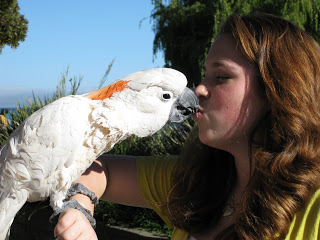 Forget eating out of her hand, I want to nibble her lips! Squawk!
This was no ordinary bird – it could bark like a dog, which was most confusing to the various canines promenading along the pier. Made me wonder what else it could say…