… on the other hand, when you follow a seemingly straightforward pattern that appears to make perfect sense, and seems as if it will result in a good fit, only to have the finished garment appear better suited to a linebacker or other broad-shouldered wearer (not you), much gnashing of the teeth is sure to result.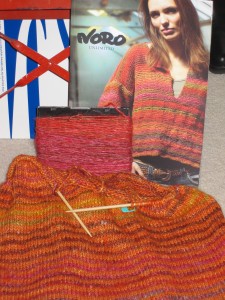 After the gnashing has been completed to one's satisfaction (right up there with whining and a high volume selection of colorful curses), the only viable option is to deconstruct the entire garment and then rip-it, rip-it, rip-it. Which I have done. CD cases make excellent yarn holders, I discovered, especially since you can mist the yarn to relax it as you go, and no harm is done to the plastic case.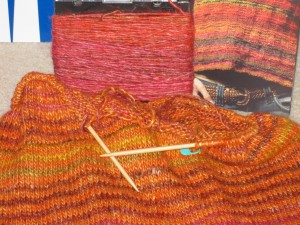 But because I am constitutionally unable to follow a pattern as written, I worked this Noro pattern in the round to the armholes, and it is to this point that I frogged back in search of Better Fit. With armholes too deep and shoulders too wide, my path seemed clear and I am reworking both with the elimination of these problems in mind. I also knit the sleeves in the round from cuff to armhole, and may have just a bit of tinking to do at the shoulder to achieve the perfect ease.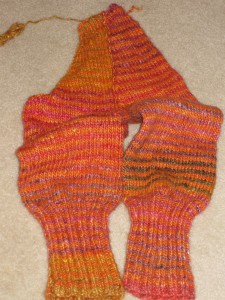 With my hands in less than optimal condition (PT was most unpleasant today… Ouch!) it has been slow going. Still, even if I re-knit only a couple of inches each day I should have plenty of opportunity to wear the sweater this winter. In fact, starting tonight we have severe storms in the forecast for the next couple of days. Nothing like grim, gray days to inspire me to keep chugging along on rows of vividly-colored yarn. Makes me happy just to look at it.