With hand surgery mere hours away, it appears unlikely that I will complete either of the two projects currently on my needles before I go under the knife. The Badcaul sock below is intended to be one of a pair, as socks usually are. The second sock, however, has yet to be cast on since my fingers cramp within about five minutes of picking up the needles – especially tiny little sock-knitting needles. Love this Fearless Fibers 100% merino sock yarn in the colorway "Vivacious." Can't wait to make sock #2. Someday. I figure I'll have to take off at least a month of prime pre-autumn knitting time. Sigh. But better to restore my hands to good working order.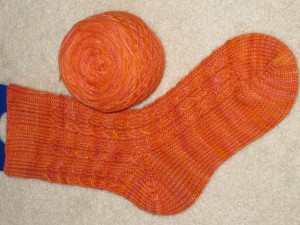 Just look at that delicious color…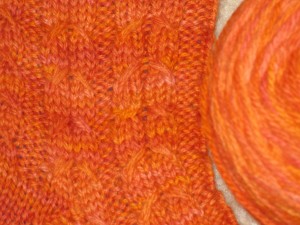 And then of course there's Mr. Greenjeans. With every good intention of sending my daughter off to college with one more hand-knit sweater (made with love by Mom) for those cold Pennsylvania fall days, I started this at the beginning of August. The hands proceeded to act up most painfully, limiting my knitting to short bursts of enthusiasm that were rapidly quelled when the cramping started up. With only one cuff and one sleeve left to go, imagine my frustration. So close, yet so far from completion. It's not as if she has any shortage of things to wear in cold weather, but still.